You have been planning to buy a property and just as you think you can afford to invest in one, you find yourself in a COVID-19 induced recession.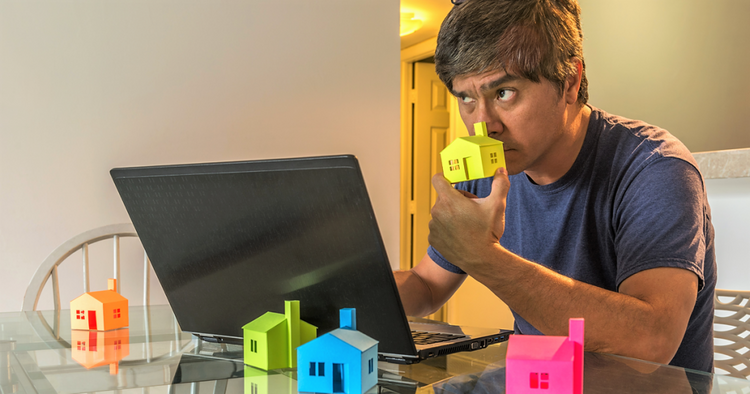 The spread of the Coronavirus pandemic (COVID-19) is producing devastating effects. Fitch Ratings, an American credit rating agency, predicts that there will be a deep global recession this year. According to its recently released Global Economic Outlook, world economic activity will decline by 1.9% in 2020 – which puts the Fitch Rating March 2020 GEO global growth forecast of over 1%, into negative.
Well, what do you do now? You may be able to afford the house but isn't a recession the worst time to be investing in real estate? Isn't it better to err on the side of caution and hold off that property purchase until the economy gets better?
You may not realise it, but this period could actually be one of the best opportunities for you. Why? Read on!
What is a recession?
A recession is generally defined as two consecutive quarters of negative economic growth. It has not been necessary for negative growth to declare a recession. The decline in growth over 2 consecutive quarters can also indicate a recession.
Metrics used to gauge economic decline include Gross Domestic Product (GDP), employment rate, and productivity among others. A recession is part of a broader phenomenon called an economic cycle, which is characterised by the following stages:
1. Expansion (growth phase)
2. Peak (end of the growth phase)
3. Recession (decline phase)
4. Trough (end of the recession phase)
The peak and the trough are the highest and lowest points respectively in one economic cycle. This cycle is perfectly normal and keeps repeating itself over and over again. Most people are extremely cautious in anticipation of recessions. More so in the property market. During different phases of the economic cycle in the last 15 years, I have heard people talk about an "impending recession" and avoid taking any action at all towards investing in property.
During an expansion, there's the fear that a recession is just around the corner. During a recession on the other hand, it is the fear that it will only get worse. This paralysis is not good if you want to be a successful property investor.
On the other end of the spectrum, you also have investors who are misled by the herd mentality during the height of a property boom. This is the period when growth is phenomenal, euphoria is high and a great number of people will be rushing to invest. This is a "seller's market" which is characterised by high prices that favour sellers. What follows after the peak of a property boom is a recession. Those who invested at these high price points will now have to wait longer for decent capital appreciation. Speculators can get burned during this period.
This article will help give you some deeper insights into a recession and how it affects the property market. We will then look at how you can navigate through a recession and make successful investments in the housing market.
What happens to home prices in a recession?
The first phenomenon that we need to explore is land prices during a recession. Land price is a major contributing cost of a house. If the price of land is cheap, the overall cost to build a house is lower and vice versa.
So, is land cheaper during a recession?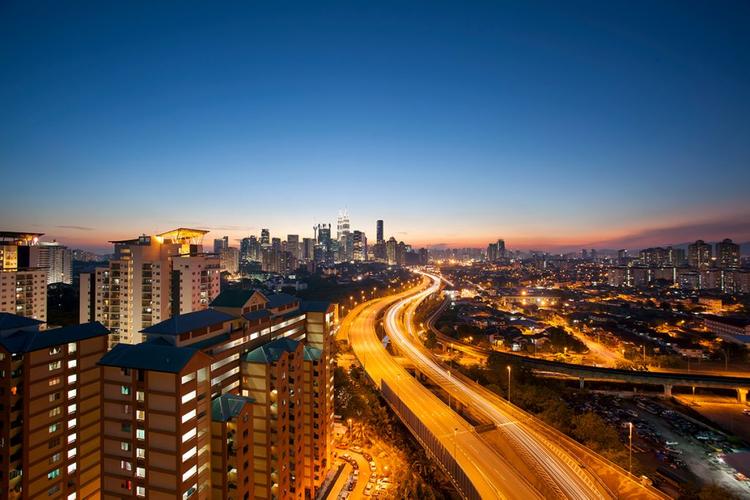 Generally, prices are determined by the demand and supply of a good or product. If demand is high and supply is restricted, prices go up until an equilibrium is reached – and vice versa. In the case of land in a recession, real estate demand usually tapers down and the effect is a reduction in price.
According to Fred Harrison, a proponent of the 18-year property cycle, in a property expansion phase, the price of land rises to a point where it becomes too restrictive and is forced to contract, causing a recession. Once an equilibrium is reached, land prices eventually increase again.
Therefore, it naturally follows that house prices should also contract in a recession. In Malaysia, we have not seen major price contractions during recessions but rather, a flat growth.
If we look at the most recent recession in 2008, this is evident. During this period, the Malaysian Housing Price Index (MHPI) decreased but it was not negative. The only time the MHPI was in the red was during the Asian Financial Crisis (1997 to 2000).
The good news is that these economic recessions are always followed by a rebound and a surge in property prices. The MHPI growth went as high as 40% in a single year after the Asian Financial Crisis. After 2008, the most recent property expansion took place.
READ: What is the impact of COVID-19 on Malaysia's property market?
Should you buy a house now or wait for a few more years?
Trying to predict what will happen in 2021 or 2022 requires the use of assumptions, which always carries a degree of risk – you could be right or you could be wrong. The trick is to improve the odds of you being right. For that, historical data and established theories come into use.
In the case of the property market, we observe that recessions are always followed by growth spurts. Case in point, the Asian Financial Crisis – four years after 1997, the property market picked up and peaked between 2009 and 2015.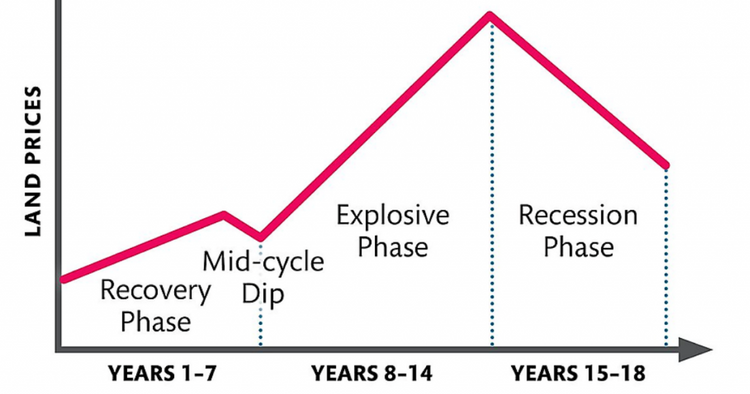 There is also the 18-year property cycle hypothesis that appears to have held true for the Malaysian property market in the last 37 years.
According to this cycle, the property market goes through 14 years of growth and 4 years of recession. The first 7 years of growth (the recovery phase) is subdued until a small dip which is followed by 7 years of strong growth (the expansion phase).
This means 2019/2020 should be the end of the recession and the start of the recovery phase. Property sales data released by NAPIC last year seems to support this assumption. However, global uncertainties due to the unforeseen COVID-19 pandemic and Malaysia's own growth forecasts for 2020 points to a slowing economy.
So will house prices go down in 2020?
Home prices have definitely increased over the years, but the rate at which the MHPI is increasing has reduced significantly. In Q32019, the MHPI stood at an index of 195.7 – which is 0.2 points higher than in 2018. Comparatively, the year-on-year index increased by 2.5 in 2018, by 6.1 in 2017 and by 7.0 in 2016!
This bodes well. It means that home prices are appreciating at a more sustainable rate now.
However, a key metric I would be looking at is incomes. If incomes do not rise, people will remain locked out of the market. With the change of governments and the current erratic political situation now, it is unclear how the economy will be managed.
Looking at the current situation through the lenses of the 18-year property cycle, at best we may see a subdued property market in 2020. Prices in general therefore may remain flat but a significant price decline doesn't seem likely.
Having said that, there is a demand for houses and the lower interest rates being offered by banks will stimulate this demand. Houses in good locations, with good access to job centres and amenities, and that are affordable will have resilient prices. In a nutshell, if you buy a house that is in demand, it is unlikely that its price will go down.
How do you buy a house in a recession?
Let's first review what we know. First, you can buy cheap during a recession and sell for a profit in an expansion – If a recession is followed by a recovery and an expansion, then the thick of a recession is when property prices are at a low point before appreciating again.
Second, the 18-year property cycle has reliably outlined Malaysia's property market. It gives a rough indication of the different phases the market is in and facilitates some degree of forecasting. Third, good houses with strong demand are resilient, even in tough economic conditions. Based on this understanding, a strategy for buying houses in a recession can be developed.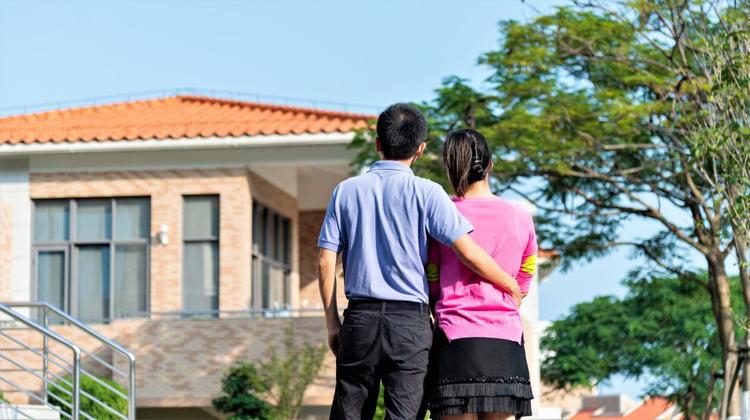 1. Research
You may think you lack the skill and ability to do research on the house you want to buy. You would be very wrong. Social media, Google, and property platforms like iProperty.com.my and brickz.my make it very easy to do decent research on most residential properties.
Following the 80/20 rule, you need to look at the few things that have the most impact on the attractiveness of the house you want to buy. These are:
How easy is it to find a tenant?
How has the price of this house appreciated since it was built?
How has this house been maintained?
If it is a stratified property, how is the maintenance of common areas?
Will you be happy to stay in this house forever?
You should have a positive answer to all these questions. For more knowledge on strata properties, check out A beginner's guide for strata property owners in Malaysia.
2. Organise your finances
How much can you afford? Speak to your bank. Banks usually have a mortgage consultant who would be able to give you a rough indication of what you can buy. There are independent mortgage consultants who can help you do a preliminary check on your creditworthiness.
Next, ensure you have sufficient money for the down payment and closing costs. They include:
Legal fees
Stamp duties
Valuation fee
Insurance
You may also need a substantial amount for renovations. Read this guide: Latest stamp duty charges & 6 other costs to consider before buying a house in 2020.
3. Find motivated sellers 
The best time to find motivated sellers for subsale properties is during a recession. As mentioned above, it is a buyer's market now and even developers will be offering you amazing deals and packages. Motivated sellers will usually be willing to sell at lower prices. You will find developers who will be ready to negotiate and offer significant discounts, but make sure to do your due diligence on the developer's background first.
4. Negotiate with your Real Estate Agent
Most real estate agents will do the preliminary negotiations on the house with you. They have been given instructions from the seller and they will follow it. When you make an offer that is lower than the asking price, often an agent will reject it even before speaking to the owner.
You must convince the real estate agent that you are a serious buyer. Make him or her understand that if the seller agrees to your price, you will move quickly. Let the agent know that you have the down payment and financing ready. This makes you a great lead and the agent will be very motivated to close the deal.
5. Ensure that the house has no encumbrances
Property sellers may also be motivated due to financial problems or other issues. Your lawyer will always do a title search for you before the sales and purchase agreement (SPA) is signed to ensure it is free of any encumbrance, so do check in with them.
When you sign the offer letter (which precedes the SPA), have a clause that your offer is conditional on the property being free of any encumbrance that can affect the completion of the transaction.
Never pay the earnest deposit directly to the seller. Make this payment through the real estate agency or your lawyer. They will hold this money in trust until the SPA is signed. For more details: 7 things homebuyers should check before signing the SPA.
6. Be ready to walk away
Remember, in a recession the volume of value-buys go up significantly. That means there is always another good deal. Don't get fixated on one house to the point you give up the advantages of buying in a recession.
If you cannot negotiate favourable terms, be prepared to walk away and look for something else that favours you. Therefore, shortlist a few houses that you like.
7. Have a goal in mind
If you don't have a goal, you will not know when to walk away. A goal in the context of buying a house is a list of what you want from the house you purchase. Some questions that can help you define your goal include:
What are the criteria for the house do you want to buy?
What is the target price you are willing to pay?
What would be a good deal for you?
If you have these questions answered, you will know precisely what you want and you will know when to walk away. It will also put you at the advantage end during negotiations.
What are the advantages of buying a property during a Recession?
By now you would have noticed that there are advantages you can exploit in the real estate market in a recession, namely: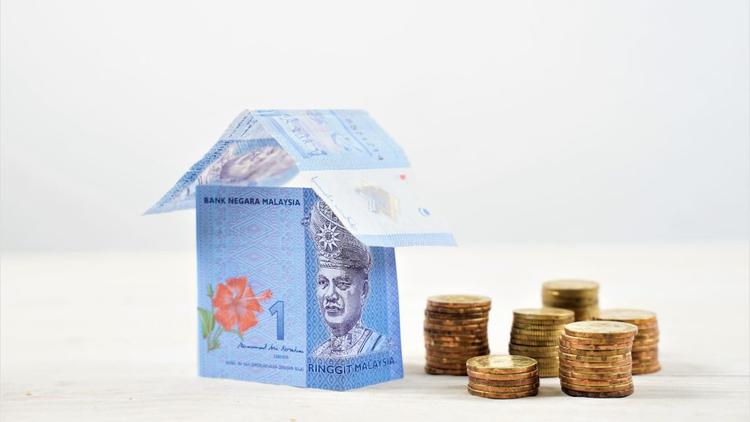 Lower interest rates
Bank Negara Malaysia (BNM) usually reduces interest rates in a recession to encourage borrowing and spending – recently BNM reduced the Overnight Policy Rate (OPR) for the second time in 2020 to 2.5% due to the COVID-19 outbreak. Low interest rates are good for homebuyers as your monthly instalments on the home loan decrease as well. The cost savings can be huge for you.
It is a buyer's market
In a recession, the advantage is to the buyer. This means it is easier to negotiate for terms that are very favourable to you, the buyer.
Looking at how prices contract (or stabilise in the case of Malaysia) and interest rates reduce during a recession, it would appear the best time to be buying an investment property is in the thick of a recession. During this period, prices are more affordable, and growth is just around the corner.
Foreclosures and short sales
There are usually more foreclosures during a recession as plenty or property owners will find it tough to service their home loans due to loss in income. You may, therefore, find good choices in the auction market.
Higher returns down the road
Recessions don't last forever. In the past, they've typically lasted somewhere around 4 years. When you buy in a recession, you are buying low with the increased possibility of selling high after a recovery and expansion kicks in. Your potential for higher returns increases dramatically.
What are the drawbacks to buying in a housing recession?
Sure, buying a house in a recession is not the perfect bed of roses. There are some disadvantages too.
Tighter lending
Banks usually tighten their lending policy in fear of defaults during a recession. Your creditworthiness will have to be much better to buy during this period.
Short-term disadvantage
A recession is no time for short-term speculation. You may not enjoy any capital appreciation in the short-term. In fact, I find short-term speculation in any phase of the economic cycle risky.
Higher personal risk
A recession affects the whole economy. Therefore, the risk of your finances taking a hit increases. For example, the risk of a layoff could be higher in a recession. Losing your job can put huge financial stress on you especially if you have just bought a house.
For a better understanding of property investment study our guide: How to invest in property in Malaysia? Here's a complete guide for beginners. Tips included!
Edited by Reena Kaur Bhatt
Disclaimer: The information is provided for general information only. iProperty.com Malaysia Sdn Bhd makes no representations or warranties in relation to the information, including but not limited to any representation or warranty as to the fitness for any particular purpose of the information to the fullest extent permitted by law. While every effort has been made to ensure that the information provided in this article is accurate, reliable, and complete as of the time of writing, the information provided in this article should not be relied upon to make any financial, investment, real estate or legal decisions. Additionally, the information should not substitute advice from a trained professional who can take into account your personal facts and circumstances, and we accept no liability if you use the information to form decisions.