From a tourist attraction and pilgrimage destination, Batu Caves has grown into a highly sought after township. You don't have to climb a steep flight of 272 steps or participate in the Thaipusam Festival to discover how amazing this township is. Read on to find out what it's like living here, what to do in Batu Caves, where to find the best food and the kind of property for sale and rent in this resort town.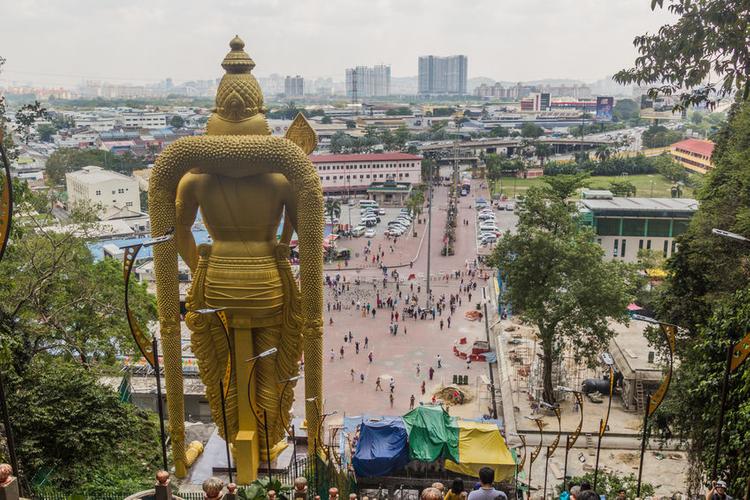 Most of us only know Batu Caves as the place that comes alive during the Hindu festival of Thaipusam. Or you know Batu Caves as a major tourist attraction you take your overseas friends to visit, to climb the whopping flight of 272 steps to the temple.
Besides being a hotbed for pilgrims and tourists, the truth is Batu Caves has also been a thriving township over the years.
Where is Batu Caves?

Batu Caves is approximately 11 kilometres north of Kuala Lumpur city centre. It sits strategically on a key intersection between major highways such as the Middle Ring Road 2 (MRR2), the East Coast Expressway (LPT), and Duta-Ulu Kelang Expressway (DUKE). Its location is somewhat unique, as one part of Batu Caves sits within Selangor while the other is in Kuala Lumpur.
What is this area known for?
This area is best known for the series of caves that founded this township. Batu Caves (the actual caves, not the township) is a limestone hill comprising three major caves and a few smaller ones. These caves house a 100-year-old temple, with idols and painted statues that have been incorporated into the limestone formations. These limestone formations are said to be around 400-million years old!
The most popular spot is Cathedral Cave, which houses several Hindu temples beneath its impressive 100-meter high ceiling. These Batu Caves temples have become a popular pilgrimage site not only for Hindus in Malaysia but throughout the world over during the annual Thaipusam festival. The festival draws over a million pilgrims to the site.
Fun facts:
The temple at Batu Caves was built by an Indian merchant named Thamboosamy Pillai in 1891 after noticing the mouth of the cave strongly resembled a 'vel' – the head of the Hindu deity Lord Murugan's celestial spear.
The giant gold statue of Lord Murugan that stands at the entrance of Batu Caves is 140 feet and is the tallest statue of the Hindu deity in the world. The Batu Caves temple is also one of the most popular and important shrines to Lord Murugan outside of India.
Formerly known as the Batu Caves Railway Station, the Batu Caves Komuter Station is 115-years old. It first opened its doors way back in 1905.
Batu Caves is a relatively 'young' township compared to many others around KL, with housing development beginning only around 1970.
What is it like living in Batu Caves?
The township of Batu Caves has steadily grown over the years. From its initial development in 1970, the township has expanded into a sprawl of 28 neighbourhoods and villages.
The key public transport into this township is the Batu Caves Komuter station railway line, which was refurbished recently in 2010. Batu Caves will soon benefit from the MRT 2/MRT Putrajaya line (previously known as the Sungai Buloh-Serdang-Putrajaya line). There will be an interchange station for that line at Kampung Batu KTM, located two stations away from the Batu Caves station.
For people who love the outdoors and enjoy a bit of green lung, Taman Tasik Sri Gombak is your go-to destination. Located less-than 10-minutes' drive away, it is a wonderful park that serves the surrounding community. Situated on a slope, the recreational park is packed with lush greenery and provides a serene and idyllic venue for jogging or a leisurely walk.
Batu Caves has eight primary schools and four secondary schools catering to its fast-expanding township. As for commercial amenities, Batu Caves has clinics, banks, gas stations, mini markets, a morning wet market, a night market, and a Giant hypermarket (basically all the markets you would ever need). There is a police station situated in the township too. Basically, Batu Caves is a relatively self-sustaining town with most major facilities and amenities available.
Read more: The ultimate neighbourhood guide to Cyberjaya
What to do in Batu Caves
1. Take a day trip to Batu Caves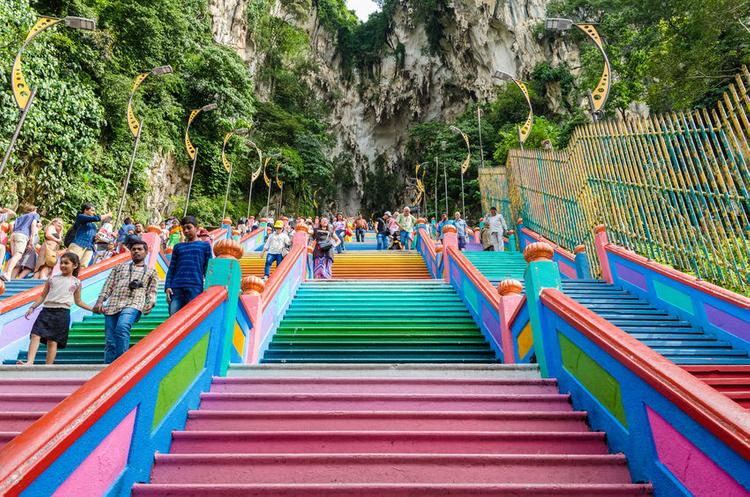 The main thing to do of course is to head out to the caves. While Batu Caves remains an important site for Hindu worshippers, the caves offer visitors of all beliefs other activity options that are less spiritual in nature.
The wooden steps were originally built in 1920 and have since been replaced by concrete materials. In 2018, the 272 steps were given a colourful makeover, making this an Insta-worthy spot. Alternatively, you can get a workout going up those steps ad take in the magnificent sight of the limestone hill.
While you're here, don't forget to check out the Ramayana Cave, which is located on the left of the wall of the hill. What's interesting about the cave is its depiction of the epic tale of Rama in a chronicle manner along the walls of the cave.
2. Journey into the Dark Caves
If you're into caving, join an expedition into the Dark Cave. Just below the Temple Cave, the Dark Cave features rock formations, as well as flora and fauna species that are unique to this location. One of the world's rarest arachnid, the trapdoor spider, can also be found here.
It is a network of untouched caverns that stretch for as long as two kilometres. In order to maintain the cave's ecology, access is restricted in some of the cave complex but there are sanctioned expeditions you can join to explore the Dark Caves.
3. Get your adrenaline pumping at Gua Damai Extreme Park
Another exciting place of interest is the Gua Damai Extreme Park. Only a short 15-minute drive away, the park offers rock climbing, flying foxes, zip lines, base jumping, and other adrenaline-pumping events for those into extreme sports.
What to eat in Batu Caves?
Any neighbourhood worth its salt and history is bound to have its share of eateries because after all, Malaysians don't eat to live, we live to eat. Thankfully, Batu Caves does not disappoint. Here are three great eats you should check out.
XXL Curry Mee at Coca Seafood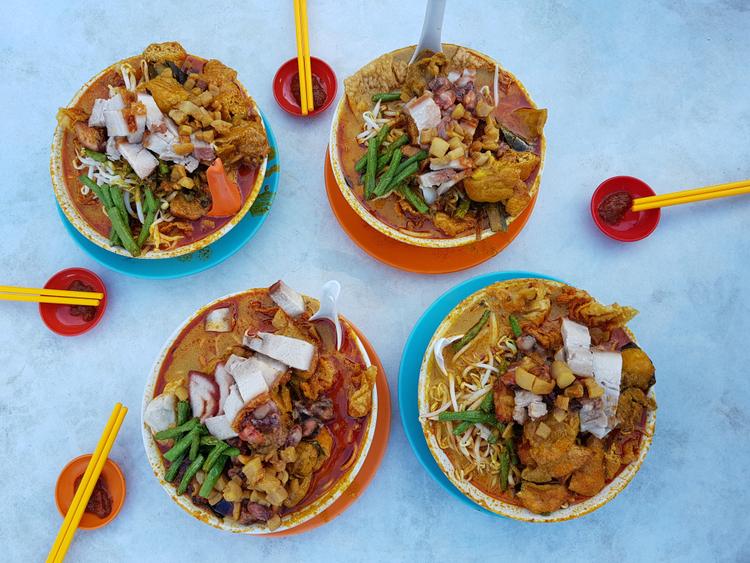 You've not had curry mee until you've had the one at Coca Seafood. They are not kidding when they say it's XXL sized. It's a giant bowl of curry goodness overflowing with piles of food ranging from roast pork, char siew, cockles, and pork lard (serious). Absolute magic.
Address: 29, Jalan Bidara 1, Taman Bidara, 68100 Batu Caves, Selangor
Opening hours: 7.30 AM to 11 AM. Closed on Wednesday
Sang Har Hor Fun at Restoran Pan Heong
Who can resist a steaming plate of Cantonese-style egg-drop noodles piled up with some giant freshwater prawns? One of the city's finest establishment for 'Sang Har' noodles is located right here in Batu Caves at Restoran Pan Heong.
Address: Jalan Medan Batu Caves 4, Medan Batu Caves, 68100 Batu Caves, Selangor
Opening hours: 8.30 AM to 3.30 PM. Closed on Monday & Thursday.
Ikan Bakar at Wira Seafood Ikan Bakar Sedap
Wira Seafood offers the freshest seafood grilled to order. You can't leave Wira without trying the star 'ikan bakar' dish, but don't forget to try the grilled giant cockles as well. It goes supremely well with the tangy dipping sauce.
Address: Jalan SG 1/0, Batu Caves, 68100, Gombak, Selangor
Opening hours: 4 PM to 3 AM. Opens daily
Read more: The ultimate neighbourhood guide to Puchong
How to get to Batu Caves?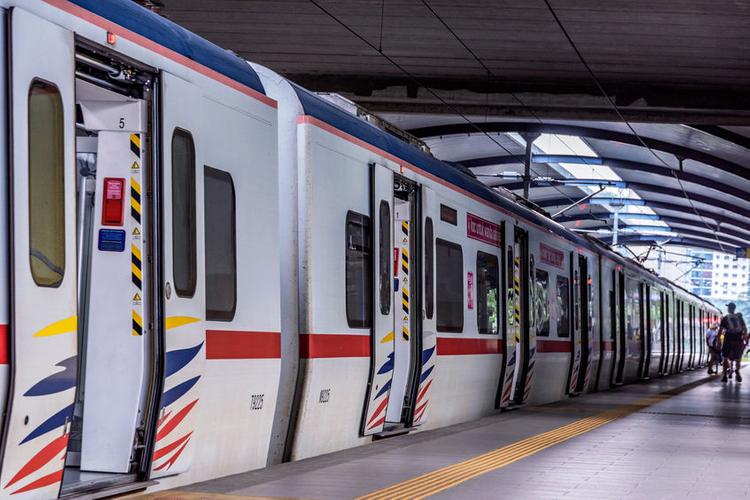 Transportation is a key consideration for people looking to live in Batu Caves, given that the area is prone to heavy traffic during rush hour. That said, the township does sit quite comfortably between many major highways, connecting you to many parts of the Klang Valley.
Highway: Batu Caves is accessible through many major highways, given that it is located on the intersection between the MRR2, the LPT, and DUKE.
Public Transport: The KTM Komuter is probably the best public transport to take if you live in Batu Caves. Taking a train from the Batu Caves Komuter station, passengers can head on to major city centre spots such as the KL City Centre, Mid Valley and main hub KL Sentral, where you can hop on to other transport lines to get to everywhere else in the Klang Valley. Plus, Batu Caves will soon benefit from the MRT 2/MRT Putrajaya line (previously known as the Sungai Buloh-Serdang-Putrajaya line). There will be an interchange station for that line at Kampung Batu KTM, two stations away from the Batu Caves station.
There is a free shuttle bus service that departs from KL Sentral to Sentul KTM station. From there, you can take a KTM Komuter train from Sentul to Batu Caves. The total journey takes about an hour.
Then there are taxi and e-hailing ride options of as well. Given that Batu Caves is located a stone's throw away from most major city hubs, it shouldn't cost as much to use these services.
How far is Batu Caves from KL?
The distance between Batu Caves and Kuala Lumpur is 11 km and it'll take about 15 minutes of driving to get to Kuala Lumpur City Centre.
Properties for sale in Batu Caves
Even though it is a township that is situated on the elbow of many key highways, Batu Caves is a reasonably priced neighbourhood to buy into. In fact, based on the H1 2020 Portal Demand Analytics by iProperty.com.my, Batu Caves is the most in-demand area among property seekers in Kuala Lumpur. This is largely due to the affordable property options available, specifically housing units that cost less than RM150,000. The overall median transacted price for residential homes is RM385k with the median per square feet at RM360.
Read more: The ultimate neighbourhood guide to Putrajaya
Property types in Batu Caves
Like most growing townships, Batu Caves has a decent spread of property types for people who are interested in the area. Depending on your budget, there are landed houses, serviced apartments, and affordable flats.
You can get a 900 sq. ft. condo with 3 bedrooms for just under RM450k. That's a decent price for a home that's located in and about KL. If you're looking for a larger built-up space, you can opt for a 1,400sq. ft. serviced residence with 3 bedrooms at around RM770k.
If you're more interested in landed properties such as a link house and if budget isn't much of a concern, you can opt for a really nice and massive 6-room terrace house in Selayang, Batu Caves for just over RM1 mil. Alternately, if you're interested in something more affordable, you can also opt for a 4-room terrace house at Taman Sunway, Batu Caves for RM690k.
Properties for rent
Perhaps you're not looking to buy just yet. Renting is a suitable option to find out what it is like to live in Batu Caves. Based on the same H1 2020 Portal Demand Analytics by iProperty.com.my, rental demand has shifted to suburban areas like Batu Caves and Ulu Kelang due to more affordable rental prices. Within these areas, people were mainly looking for high-rise residences with low entry prices. The high demand growth for Batu Caves properties was mainly contributed by the condominium segment, with seekers looking at rental properties below RM1,200 per month.
If you have a large family, a spacious terrace/link house in the area will cost you about RM1.8k a month. For young families looking for a smaller but comfortable accommodation, a condominium at around 1,100 sq. ft. can be rented for about 1.3k a month. But if budget is a major concern, a 3-bedroom apartment in the area can be rented for around RM700 a month.
Read more: 9 townships in the Klang Valley with the easiest access to LRT and MRT lines
What's nearby
Given its relatively strategic location, Batu Caves does flank some key neighbourhoods, giving it good access to more amenities and lifestyle options. Some of the neighbourhoods that are easily accessible to people living in Batu Caves are:
As you can see there is more to this township that Batu Caves temples and steps. It is a fast-growing liveable township that offers you relatively affordable access to the Klang Valley area. If you're looking for a place to live that's not too far away from KL City Centre without breaking the bank, then Batu Caves is definitely a viable option for you.