These potted house plants aren't just eye candy for your home – It has been proven that they help boost productivity too.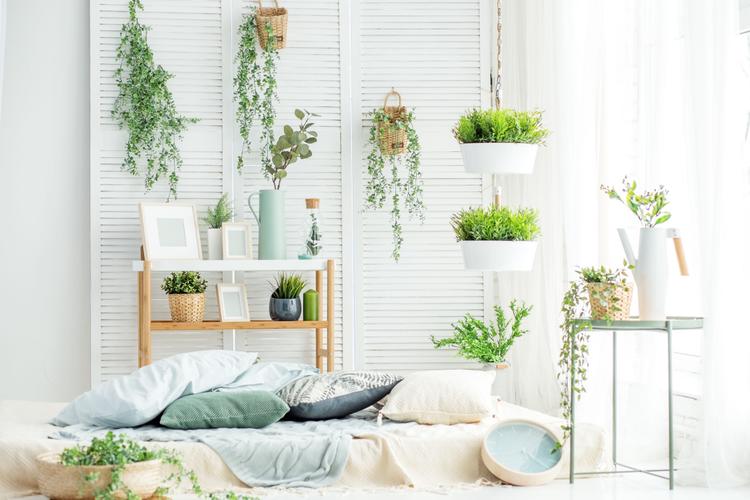 We all know that plants produce oxygen, so it can't hurt to have little O2 producing machines scattered all over the house. Did you know that potted plants have been scientifically proven to reduce stress levels and increase productivity by 12%? It is a fact published in The Journal of Environmental Horticulture, by Virginia I. Lohr and her team of researchers who wrote about increasing productivity in a windowless environment.
And it's not just the plants which have their own special powers – even the potting mix can help purify the air in your home and keep you healthy by removing airborne pollutants! In fact, another research by R.L. Orwell et al (2006) found that it reduced these volatile organic compounds by a staggering 75%.
If you're hyperventilating from the stress of just finding this out (and probably a little from the bad air) calm down because there's an easy fix. Head out to your nearest nursery and treat yourself and your home to some potted plants! Here's a list of some easily available plants in Malaysia, each with their own personality.
1. Succulents – The only pricks worth dealing with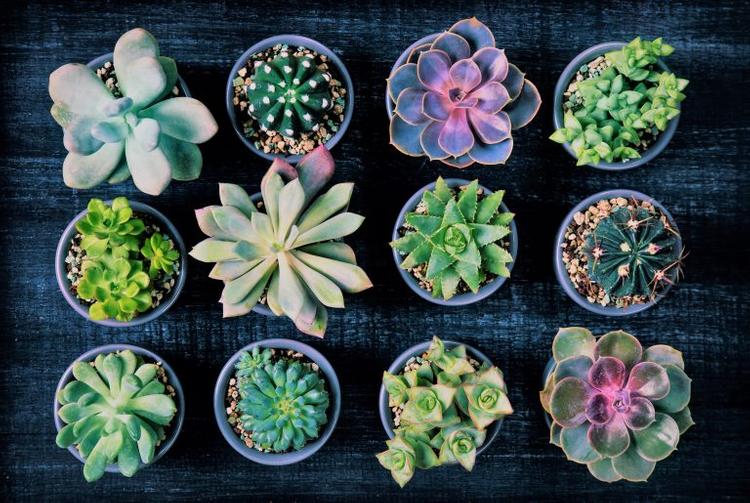 Imagine a stressful day. Does this day include having to face annoying, unbearable people? Probably. Now imagine finally reaching home after this horrible day – in your step, and greeting you are these adorable little green succulents. Ahhh. Let's face it, these pricks can do nothing but bring a smile to your face.
Succulents have special leaves that are thick and fleshy, usually for retaining water, hence why almost all cacti are under the succulent family.
Now, both succulents and cacti are wrongfully thought of as bad Feng Shui plants. This is a common misconception as it is not the plant itself, but the placement that can affect your home's Feng Shui. The best place for your thorny, chi redirecting plant? By a window – to work as a protective barrier. Coincidentally, succulents require at least 6 hours of sunlight a day so putting it by the window is perfect!
For more Feng Shui tips, Read 5 Feng Shui tips for buying the right house 
But wait, there's more! Succulents like Aloe Vera, are famous for their healing properties. Just cut a little off and use it to treat sunburns or cuts. Agave, another succulent, has antiseptic properties – even better for those cuts. Handy, eh? And on top of all of that, these often overlooked plants are low maintenance, require watering only once a week. Perfect for us busy, non-green-thumbed people.
Note: iProperty does not condone using your new pointy plants as a throwing weapon on said annoying and unbearable people.  
Read more: How to grow succulents in 3 simple steps
2.  Colour coordinate with CROTONS!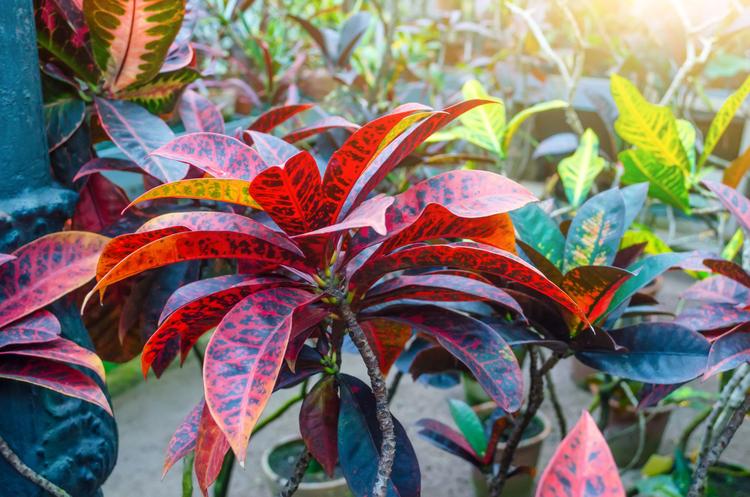 Yellow, pink, green, black, orange – crotons come in a combination of colours and you're bound to find a pot (or more) that can match your home décor. Or perhaps you're a minimalist – a monochromatic home could do with a pop of colour. In fact, these indoor potted plants are perfect for brightening up any dull area or any dull day.
But if you're a plant person you may have heard that these crotons are… a little fussy. So here's the story, these plants don't like being moved around. That's really the only thing. Quite a few who bought crotons have experienced the following: A few days after getting their croton settled in, leaves will start to fall off and people wonder where they went wrong! If this happens to you after you've decided to get one, worry not, it's just moving pains. Your croton will be growing its foliage back in no time as long as you give it unconditional care.
3. Get lucky and bendy with BAMBOO
Lucky Bamboo or Dracaena Sanderiana is not actually a bamboo plant. But because of its bamboo likeness, it's been adopted by the Chinese culture and is seen as auspicious. The best thing about Lucky Bamboo plants is literally how flexible they are. I'm not kidding, you can actually bend them into pretty much any shape you want!
A pineapple shape, for example, as shown below, brings luck.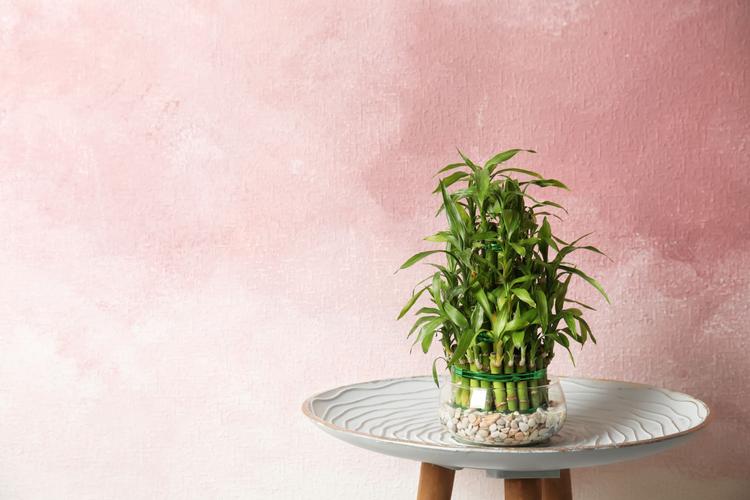 But hey, here's your chance to get really creative – channel your inner contortionist! Even the number of bamboo sticks you have can mean different things, for example; two meaning double happiness and 10 representing perfection.
These plants should never be neglected or wrongly cared for. Their deterioration could mean your luck's disappearance, or so they say. But these plants can definitely survive indoors! These bamboo copycats just require some sunshine (as we all do), so place them close to a window and it's all good.
So pretty!
4. Live life in the fast lane with the DUMB CANE
Dieffenbachia (try saying that 10 times!) or most commonly known as the Dumb Cane, has quite a story attached to it. Let's start with the positives; strong and hardy – the Dumb Cane is beautiful with its leaves of emerald green and shades of white. It is the kind of plant that can survive being forgotten and requires minimal attention, to begin with.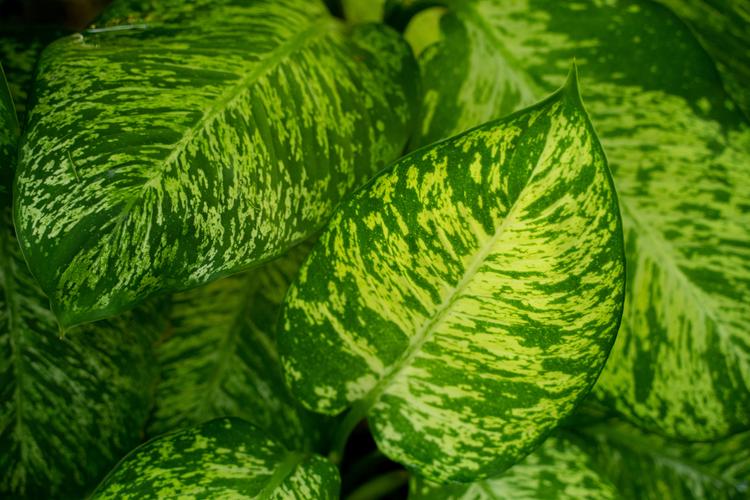 However, it's apparently a murderous, poisonous plant capable of killing both children and puppies. Okay, this is an exaggeration. The Dumb Cane's white and green leaves look almost magical and I guess this is what leads some animals (and people) to try to… Eat them. And here's where the problem starts (and how it got its name). Eating them causes swelling and pain and in very, very, very bad cases, you could lose your voice.
Here's some sound advice: Don't eat it. Just wash your hands after handling the Dumb Cane and you'll be rewarded with a plant that will last and always look good. If you've got young ones or furry friends, place the plant in a hard-to-reach spot and caution your kids to not play with it.
5. Flamingo Lily – Because it is so darn pretty 
Here's one that blooms flowers for about six whole weeks at any given time, just by keeping the soil nice and moist! In fact, they are known as the world's longest blooming plant. If you cut off the flowers and place them in a vase, they'll last for a couple of weeks as well.
It's a great way to spice up any room in any home – Anthurium, Laceleaf, Flamingo Lily or Tail Flower – it has many names. These potted plants bloom magnificent looking flowers and you simply cannot go wrong with them.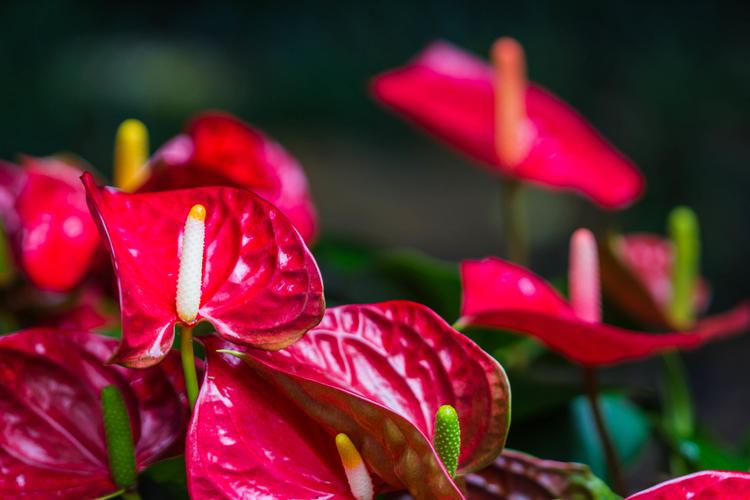 There you have it, ladies and gentlemen. Five potted plants you absolutely need to have in your home right now. If being healthy and productive is your goal, then you really can't leaf without them! So go on and get something to match your personality and breathe easy!
Edited by Reena Kaur Bhatt
Disclaimer: The information is provided for general information only. iProperty.com Malaysia Sdn Bhd makes no representations or warranties in relation to the information, including but not limited to any representation or warranty as to the fitness for any particular purpose of the information to the fullest extent permitted by law. While every effort has been made to ensure that the information provided in this article is accurate, reliable, and complete as of the time of writing, the information provided in this article should not be relied upon to make any financial, investment, real estate or legal decisions. Additionally, the information should not substitute advice from a trained professional who can take into account your personal facts and circumstances, and we accept no liability if you use the information to form decisions.