Description
Properties available
Full details
Facilities
Photos
Market insights & transactions
Neighbourhood
Specialists
Explore nearby
Casa Idaman
Sentul, Kuala Lumpur
Casa Idaman is a Leasehold Condominium located in Sentul, Kuala Lumpur. It was completed in 2010. The building has 18 floors and a total of 608 units. The build-up size is 1,007 - 1,181 sqft. This is a Residential Strata property. There are 35 listings for sale and 21 listings for rent in Casa Idaman.
Facilities at Casa Idaman include Playground, Wading pool, BBQ, Gymnasium, Swimming pool.
The median transacted price is RM 367 per sq. ft. Casa Idaman has a capital growth of 4.29%. The estimated rental yield is 4.2%.
Nearby transportation: Kampung Batu (MRT), Batu Kentonmen (KTM), Taman Batu (KTM), Kentonmen (MRT), Taman Wahyu (KTM)
Nearby medical: Klinik Kesihatan Batu, Klinik Kesihatan Sentul, Klinik Kesihatan Jinjang , Klinik Sarmukh Dan Pusat Bersalin, Hospital Pakar KPJ Tawakkal (KPJ Tawakkal Specialist Hospital)
Price overview of Casa Idaman

Price range for sale

RM 349,000 - RM 471,000

RM 325.79 - RM 433.47 /sq. ft.

35 For Sale

Price range for rent

RM 1,200 - RM 1,500

RM 1.04 - RM 1.49 /sq. ft.

21 For Rent

*90% of the properties listed are between this price range
Property title type
Strata
Built-up size
1,007 - 1,181 sqft
About Casa Idaman
A home thats ideal, affordable and easy to get to
A well-equipped condominium in the city centre, targeted at middle-income earners sound improbable? Not with the arrival of Casa Idaman.
Designed to provide an ideal, affordable and easily accessible home for middle-income earners and first-time buyers, Casa Idaman offers 608 units of spacious three- and four-bedroom apartments on a 5.31-acre site off Jalan Ipoh a mere six km from KLCC. Despite only being targeted for completion in September 2010, this fantastic RM135 million project has already sold more than 70% of its units since launching in January. The units come in three well-planned designs 1,181 sq ft, 1,007 sq ft and 1,062 sq ft and are priced from RM255,000 to RM292,700.
For the discerning and decisive buyer, there is a rebate of five per cent, as well as a five per cent Bumiputra discount. In addition to the five per cent rebate factor, Casa Idamans attractive price tags arent expected to remain low for long and its capital value is expected to appreciate, with increasingly expensive building materials and scarcity of prime land. Owners and residents who buy now will also have more than a lifetime to enjoy life here in this leasehold project, as the lease expires only in August 2103.
Comfy and safe
Although affordable, Casa Idaman comes well-equipped with comprehensive condominium facilities, from swimming and wading pools to a gymnasium, a BBQ pit and a children's playground all under the watchful eyes of the security system. After all, just because your home is affordable doesnt mean your belongings and the lives of your loved ones are any less precious.
Diverse and prestigious projects
Developer Billion Horizon Sdn Bhd is a joint-venture between property developer C P (S.E.A) Sdn Bhd and land owner Damakmur (M) Sdn Bhd. With 30 years experience in construction and property development, the C P Group has completed numerous prestigious commercial and residential projects. These include the 22-storey CP Tower, the 388-room Eastin Hotel, 2½ storey link houses in Bukit Serdang and the upmarket Kota Villas enclave located off Jalan Duta. Other developments in progress include the Semenyih Impian single-storey link houses, Ipoh Road condominium and the fully integrated Queensbay waterfront development in Penang.
Access from East to West
A mere six km from KLCC and situated close to the major Jalan Ipoh-Jalan Kepong crossroads, Casa Idaman is located within easy reach of major roads and highways including Jalan Sentul, Jalan Tun Razak, the Middle Ring Road II, the Jalan Duta-Sungai Buloh Expressway, the Sentul Link, as well as the Sprint, Karak and Mahameru highways. The excellent location grants swift access to neighbourhoods as diverse as Batu Caves, Sentul, Mont Kiara and Bukit Tunku. Public transport is also available at the nearby Star LRT and Sentul KTM stations.
Useful amenities nearby include a police station, the Kuala Lumpur and Tawakal hospitals, and schools. Aside from health, safety and education, your stomach will also be well taken care of, with the many coffeeshops and restaurants in the vicinity, the Sentul market, as well as nearby shopping centres and hypermarkets like The Store, Kompleks Sungai Mas, Carrefour (Kepong) and Jaya Jusco (Kepong). Not for nothing is this district known as a food haven!
Sweet rewards for early birds
Given the convenient location, affordability and pleasant settings, Casa Idaman offers a great deal to the smart investor, middle-income owner or first-time property buyer. Already over 70% sold, the condominiums remaining units are still available, but going fast. Act now to enjoy the five per cent rebate! For more information, call 012-285 7631 / 017-882 3276 or visit http://www.cp.net.my/.
Facilities in Casa Idaman
Photos of Casa Idaman
Explore the unique features and spaces around the building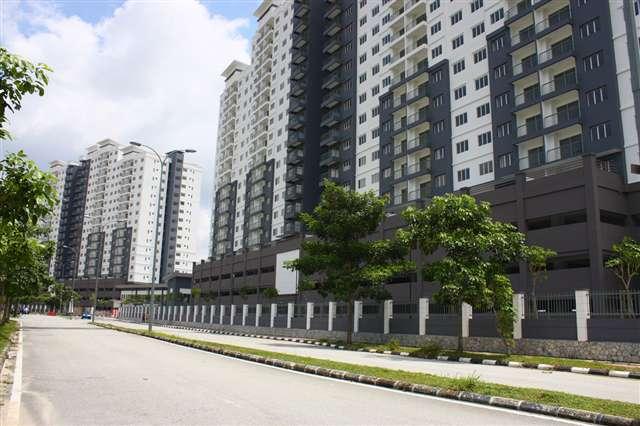 1
Property market insight for Casa Idaman
All data based on max of 12 months only – Oct 2019 to Sep 2020
Median transacted price
Lower: RM 350,000
Upper: RM 440,000
Median transacted price per sq.ft. (psf)
Lower: RM 346
Upper: RM 415
How transacted price was calculated
Can't find what you are looking for?
Drop your details here and a property agent will get back to you soon
Send Enquiry