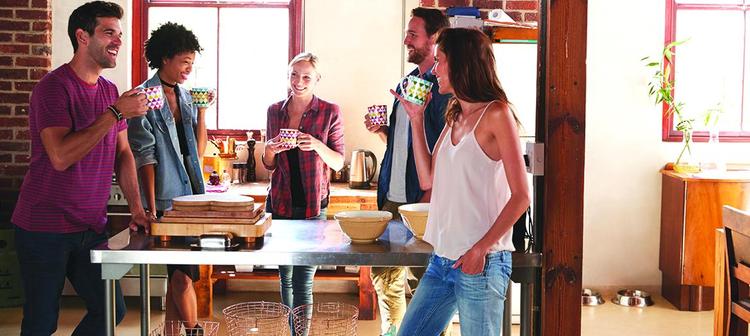 The sharing economy has extended to the real estate market and its latest innovation, co-living properties could fulfil the desires of renters who are looking for more than just a roof over their heads.
Rental properties which encourage communal living are mushrooming in major European cities, especially in the US. Co-living startups like Common, Open Door and Pure House are revolutionising the rental market by creating shared housing spaces that offer a sense of community which is sorely lacking in a standard leasing arrangement. These properties which target urban Gen Y, young working professionals and university students have been billed as "dorms for grown-ups".
They typically feature fully furnished bedrooms with shared kitchen and living areas, as well as a lengthy list of on-site amenities; all which facilitates residents' engagement. Tenants will have to apply for 'membership' and will be selected based on compatibility, shared interests, etc with the other residents.
Considering Malaysian youths' fascination for all things 'lifestyle', we spoke to a few Gen Ys to find out if this concept will gain traction here.
A Realtor's Insight: Not for us but great concept for expat community
Rohit Singh, 30
Real estate negotiator, Jann Properties
Malaysian Gen Ys have embraced the 21st century with much gusto – they live on social platforms such as Instagram and YouTube and most have dozens of apps on their phones. Nevertheless, the traditional norms of family, marriage and culture are more deeply entrenched here than in western countries.
Our western counterparts are expected to leave home and venture out on their own once they turn 18. Local youth, on the other hand, are much more attached to their hearth and home. Culture and religious practices are particularly prominent in Malaysia and the one thing that takes centre stage in all of this is family. When you already have your sense of belonging and connectivity fulfilled, committing to a living situation where most time is spent with your roommates seems futile.
Even for those who prefer independence would hesitate to live in such a place out of respect to their parents and their conservative beliefs. I for one know that if my female relative were to invite her parents over to such a place, they would get a shock seeing her sharing the kitchen, bathroom and living area with 'random' males.
On a side note, this housing concept shows much promise for the expat community. A growing number of foreign talents are coming into Malaysia, taking up job offers in IT, Graphic Design, HR or to work with a start-up. These are not your typical C-level staff but young Gen Ys who are go-getters who work hard and play hard. Socialising and interaction out of work top their list and most will want to absorb and experience the local cultures, food and travel destinations as much as possible.
Hence, this co-living option which provides an avenue for them to meet and bond with like-minded individuals and to engage in transformative experiences together will prove ideal. In fact, there are already expat 'rental properties' in areas such as Bangsar South, Jalan Ampang, Mont Kiara and Hartamas. These, however, are your cookie-cutter apartments; should developers or management companies create more flexible apartment complexes or bungalows as described above, I am sure the demand will be strong.
"A growing number of foreign talents are coming into Malaysia, taking up job offers in IT, Graphic Design, HR or to work with a start-up. These are not your typical C-level staff but young Gen Ys who are go-getters who work hard and play hard."
The Millenials Say:
Globe-Trotting Teacher: Willing To Give It A Test Run
Victoria Akiew, 27
English Teacher
It is true that we are a friendly lot and appreciate our country's diverse cultures, but when it comes to living spaces, Malaysians still prefer to keep it private. Frankly, most local millennials might find the concept of living openly with other people tiring.
The idea is very attractive, especially if you are a single, young working professional. It is just that many Malaysians are bogged down by their jobs, daily commute and family obligations as it is. Few in the group of people who can afford such a rental accommodation would have the luxury of enjoying a complete work-life balance.
I for one, wish to keep socialising separate from my daily activities. On weekdays, I would just want to come home, shower, grab some food, read my book or catch up with an episode of the latest series I'm watching.
Nevertheless, foreigners will welcome such a living arrangement. As they are new to the country, it will be a fantastic way to encourage friendship. I have lived and worked in the UK, China and Spain; in each country I rented 'hostel-like' accommodation that was somewhat similar to a co-living property. As I was new to the country, it was a fantastic way to meet some amazing people and build friendships.
Ultimately, however, I am willing to give this rental accommodation a shot, given that the price is right and within my budget. I am open to the idea of tweaking my lifestyle – as long as you provide me with an attractive rental rate.
Your Local Young Professional – Yes If All Boxes Are Checked
Ying Ning, 25
Lawyer
Personally, I think that this is an interesting concept considering that in this day and age, many of the young working Gen Ys crave the interactions and college/university experience they once had. This concept allows the young working Gen Ys to have the best of both worlds, "adulting" with peers. Provided that the rental is competitive, I would stay in such a property. The amount of rent that I will be willing to pay depends on the size of the unit in question as well as the facilities that would be made available. The facilities that I would want to see are a gym, a swimming pool and perhaps a shared lounge area. A well-stocked library would be welcomed.
In the event the property is located in a central area with public transportation, it would be ideal. Ample parking space wouldn't hurt either. If I can cut out commute time to work and to 'meet-up' sessions, I would be swayed to rent such a property over a run of the mill rental unit. By default, an apartment building will work better as I am unsure as to how this living concept would operate in a bungalow setting. In terms of potential challenges, the maintenance of the unit might be an issue. How would the management of the rental property be dealt with and who gets the power or authority? There must be a manager of sorts in place to take care of the realistic parts of shared accommodation such as facilities maintenance, cleaniness, disputes resolution, etc. I would not want to see the competitiveness of my rental unit being affected.
University Student – If Not For Cultural Challenges, Maybe
Talha Mushtaq, 20
International Student
I think it's a nice way to bring people together. People living in these places, I imagine, would feel a better sense of belonging as they share similar ideas and sentiments. A big but, however, would be race and social beliefs. You can share the same interest say in football, spicy food or theatre but you might not understand that I have to pray five times a day or that I can only eat Halal food.
Pursuing an activity together for a few hours is different to the spending the majority of your waking hours in a shared living space. You would not want your daily habits to restrict the other residents' enjoyment as well. Maybe if there is a comprehensive screening process in place where potential residents are authentic in describing their wants and needs, as well as dislikes, then I would love to try living in such a place; as long as the rent is affordable of course.
Disclaimer: The information is provided for general information only. iProperty.com Malaysia Sdn Bhd makes no representations or warranties in relation to the information, including but not limited to any representation or warranty as to the fitness for any particular purpose of the information to the fullest extent permitted by law. While every effort has been made to ensure that the information provided in this article is accurate, reliable, and complete as of the time of writing, the information provided in this article should not be relied upon to make any financial, investment, real estate or legal decisions. Additionally, the information should not substitute advice from a trained professional who can take into account your personal facts and circumstances, and we accept no liability if you use the information to form decisions.