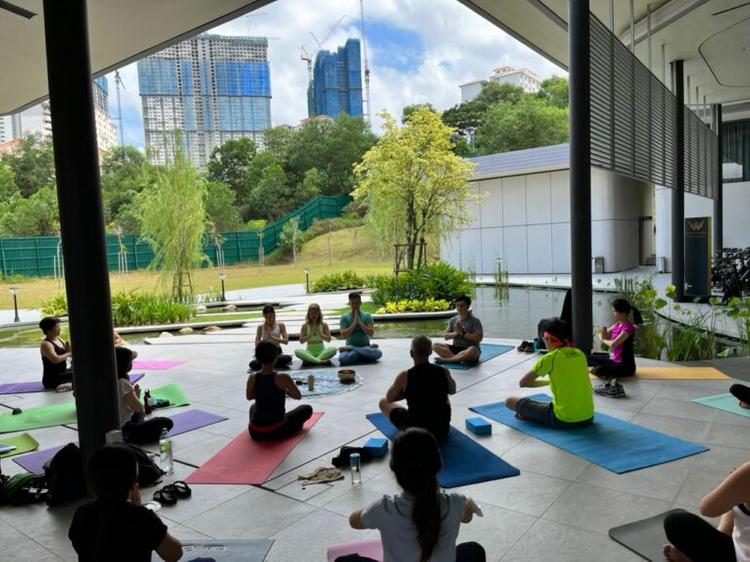 KUALA LUMPUR, 4 August — The Kuala Lumpur Wellness Festival, which was launched on Friday, 29 July 2022 drew thousands of people to its venue at KL Wellness City Galley in Bukit Jalil. Having more than 30 different activities, the 10-day festival aims to educate and advocate to the Malaysian public on the importance of wellness and healthcare in their daily lives.
Malaysia is moving fast into the endemic stage after two years of lockdown and this festival has caught the attention of fitness and wellness enthusiasts and many who were deprived of such activities during the pandemic stage two years ago. This festival was uniquely planned to cater for the unpredictable Malaysian climate, having its activities indoor and outdoor.
With the ever-growing health conscious community, the response to each individual activity over the past 7 days was overwhelming. Drop by to discover a new level of fitness with the numerous activities such as Tabat HIIT FitHour, Detox Yoga and Zumba. Meanwhile, health talks on Gut Health and Mindfulness, Women and Fertility and Eat Your Way to Fat Loss were conducted by expert in their field namely, Celine Tan, Dr Tan Chong Seong and Kit Mah. Besides the fitness workout and health talks, exciting workshops for instance Sip and Paint and Wine Tasting has a full turnout. Apart from working out, participants were able to gain some knowledge from the take-home message they gather by attending the talks and workshops.
The Kuala Lumpur Wellness Festival will end this Sunday, 7 August 2022 with a bang by having public figure and online fitness coach, Jordan Yeoh conducting his special Body Blaster – Full Body Strengthening and Fat-Loss class. As for children aged 3 – 6 years old, Socatos Malaysia will be organising a special multi-development physical programme to encourage personal growth and character agility. Treat this as a family outing and join the activities planned out.
Dato' Sri Dr Vincent Tiew, Executive Director of Branding, Sales & Marketing said "We have been getting a lot of enquiries on our Kuala Lumpur Wellness Festival. Some feedback from the public is that they are happy to be able to attend free classes for them to lead a healthy lifestyle. We wish to encourage the community surrounding Bukit Jalil to participate in all our free activities. As of today, the aim and vision of this festival are met."
He added that KL Wellness City will make Kuala Lumpur Wellness Festival an annual event and looking at having it on a  larger scale in the coming years. In addition to that, he intends to add more activities for kids and plans to make the festival an event for families. This festival is angled as a CSR event, having a Blood Donation Drive for the public to come together and contribute to saving lives. The organiser, KL Wellness City hopes the public would step forwards and participate in the Blood Donation Drive this Sunday, 7 August 2022.
Follow KL Wellness City's Facebook page @klwellnesscity, for more event updates.
About KL Wellness City
KL Wellness City Sdn Bhd is the master township developer. At the forefront of wellness and healthcare, KL Wellness City is the first in Southeast Asia to cultivate a lifestyle fully integrated with healthcare. Pioneering a comprehensive ecosystem embodying healthcare and wellness living, KL Wellness City's concept is uniquely modelled by its declaration to redefining, strengthening, and broadening our experience of health and quality of life. Sharing in this vision of building a 360-degree wellness hub, the KL Wellness City community boasts The International Tertiary Hospital, Medical Suites, innovation laboratories, clinical R&D facilities, healthcare company office towers, a retirement resort, a Healthcare Mall, wellness-centric serviced apartments, a fitness-based Central Park, and more. Serving as a healthcare nexus, these pivotal elements collectively render KL Wellness City the ultimate one-stop oasis for the body and the mind. Each component of this township is carefully conceptualised to excel both independently and collectively as a part of the community's integrated ecosystem encompassing medical care, healthcare, wellness and fitness.
For more info:- http://klwellnesscity.com/
For enquiries, please contact:

Kellyn Shantini Kalimutu
019 – 986 1627
Ong Li Yan
012 – 691 1384