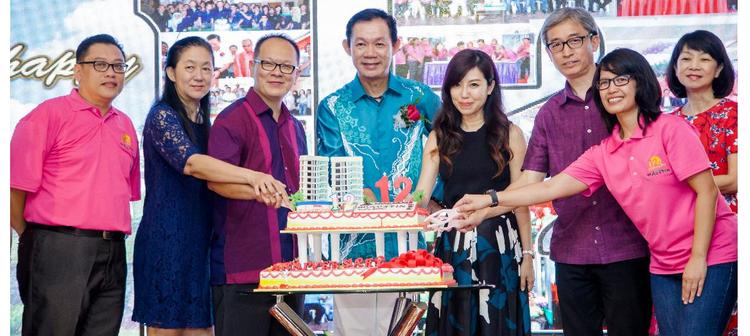 July 15, 2017: One of UMLand's township developments in Johor Bahru, Seri Austin Township celebrated their 12th anniversary on 15 July 2017 and it was successfully held at the Seri Austin Gallery. On this day, along with Chief Executive Officer, Mr. KK Wong and the management team, over 500 people from business associates, authorities, media members, Seri Austin residents and public came to commemorate the anniversary celebration.
Since its inception in 2005, Seri Austin, spread across 500 acres of freehold land, has grown in value and attracted a community of over 30,000 residents. Today, it has grown and matured into a well-planned township fringed by lakes, parks and lush greenery.
Recently, the township was honoured by the Iskandar Regional Development Authority (IRDA) with the inaugural Noble Excellence Awards 2016 for "Best Development of The Year" and The Iskandar Malaysia Accolades 2016/17 (TIMA) for Corporate "Value Champion" and Overall "Value Champion" in recognition of its contribution towards enhancing the quality of life in the economic region of Iskandar.
The township continues to grow with new projects being launched, the most recent being D'Lagoon, a luxury residential development alongside a lake.
D'Lagoon features two 20-storey towers comprising 204 luxury apartment units in addition to 58 three-storey landed strata villas. With only six units per floor in the apartment blocks and a total of just 262 residential units, the project offers low-density living with generous outdoor recreational space.
Seri Austin, located within the popular growth corridor of Tebrau in Johor Bahru, has bagged more than 50 awards and recognitions. On top of the attractive amenities and easy access, the township is enhanced by an adjacent 36-hole golf and country resort while commercial hubs like AEON Jusco Tebrau, the upcoming IKEA Tebrau and AEON Jusco Bandar Dato' Onn, will add to the convenience of living in the township. KPJ's Bandar Dato' Onn Specialist Hospital is also within the area.
Features of the township include top-grade residential houses with affordable pricing and a conducive eco-environment that encourages healthy living. Seri Austin offers outdoor facilities like smoke-free recreational parks with tranquil lakes and jogging tracks. It is also the first in Johor to implement a designated bicycle lane that stretches along an eight-kilometer route around the township.
Among the highlights for the 12th year celebration were live band, drum and dance performances, magic show, lucky draw and in between the nights, lucky draw sessions were also held. The fireworks show was the grand finale of UMLand Seri Austin 12th Anniversary Celebration.