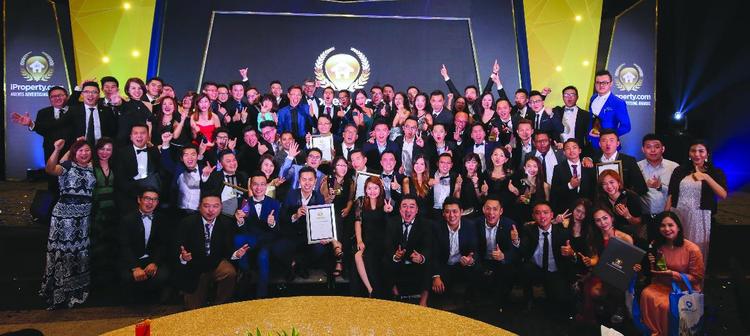 The atmosphere was highly charged at KL Hilton on 15th August, 2017 as the iProperty.com Malaysia's Agents Advertising Awards (AAA) returned much bigger and more exuberant than the previous year. The prestigious awards ceremony hosted numerous real estate industry professionals on a spectacular gala evening on a mission to give recognition and celebrate the highest levels of achievement, leadership and innovation by agents, negotiators and agencies in the real estate industry.
Guests were first treated to a performance by Grace Tan, who showcased her advanced technical abilities joined by classically trained ballerinas donning stunning LED illuminated tutus for a bespoke performance. Guests also enjoyed a showcase of immense talent by a group of extraordinary performers called The Nebula Stars. The performances were followed by an opening remark by Haresh Khoobchandani, CEO – REA Group, Malaysia & Singapore. In his address, Khoobchandani expressed his appreciation for the attendees who took time off their schedule to join him in celebrating and honoring excellence within the real estate industry before kicking off the award ceremony.
The winners were selected by a group of highly acclaimed judges which comprises Dr. James Tee, Managing Director / Chief Executive Officer of Medini Iskandar Malaysia; David Chong, Former VP of Malaysia Property Incorporated (MPI); Haresh Khoobchandani; Richard Oon, National Tax Director, TY Yeoh International and; Ahyat Ishak, Founder of the Strategic Property Investor Programme.
Eric Kho, Haresh, Eric Lim & Leon Kong
Propleague, Vivahomes, Gather Properties, Dreamvest and iProperty.com Malaysia
Generous sponsors of the prestigious night were: UCSI University, Hap Seng Star (Mercedes-Benz), Gintell, Hilton Kuala Lumpur and Grab. Among the award presenters who graced the event were: Prof. Dr. Ooi Keng Boon, Dean, Faculty of Business and Information Sciences, UCSI University; Dr Daniele Gambero, CEO of REI Group of Companies; Eric Lim, President of Malaysian Institute of Estate Agents; Chris Tan, Founder & Managing Partner of Chur Associates; Ishmael Ho, CEO of Ho Chin Soon Research; Wilson Wong,Dealer Principle of Hap Seng Star (Mercedes-Benz); Prof. Dr. Tan Chun Wei, Deputy Dean, Faculty of Business and Information Sciences and Stephen Corneilius, CEO of UCSI Extension; Asha Menon, HR Director of REA Group – Asia; Firdaus Musa, Founder & Managing Director of Firdaus and Associates Property Professionals; Chen Siow Li, Assistant Manager, eCommerce of Gintell; among others. The official media partners were Focus Malaysia and Sin Chew Daily.
(L-R) Wayne Lim, Dave Chong, Caleb Chin & Tony Yap (IQI Realty Penang)
(L-R) Daniel Ho (Group Managing Director, IQI Realty), Stephen Corneilius (CEO, UCSI Extension), Prof Dr Ooi Keng Boon (Dean, Faculty of Business & Information Sciences, UCSI University), Kashif Ansari (Group CEO, IQI Realty).
Haresh presenting his opening speech