Knight Frank has analysed Skyscraper Capital Values for the first time as part of its inaugural Active Capital, The Global Report 2017.
According to Knight Frank's analysis, which uses rental values as at Q4 2016 and prime yields as a basis, pricing for skyscrapers in Hong Kong has reached US$8,000 per sq ft, over 60 per cent higher than tall buildings in Tokyo, where pricing is estimated at US$4,900 per sq ft versus other global cities like Manhattan/New York at US$3,700 per sq ft and London at US$2,450 per sq ft.
Other Asian cities that are priced above US$1,000 per sq ft include Singapore at US$1,900 per sq ft, Taipei at US$1,600 per sq ft and Shanghai at US$1,250 per sq ft.
Pricing is highest in Hong Kong which reflects the world's highest skyscraper rents, and the lack of available land for future development.
Similarly, pricing in major financial centres such as Shanghai, Singapore, Manhattan and London is supported by the high level of demand for space in these buildings.
"Capital values of Asia's tallest towers showed significant divergence at the end of Q4 2016, with Hong Kong sitting at the top and Mumbai at the bottom of the global rankings. In Hong Kong, continued strong demand and a lack of new land supply continues to push values higher, while the structure of the Mumbai office market, has tended to see office markets develop outwards rather than upwards."
– NICHOLAS HOLT, Head of Research for Asia Pacific at Knight Frank​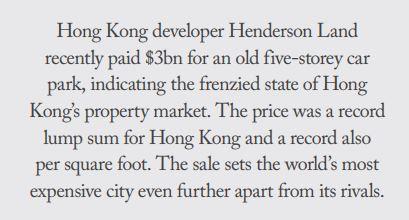 Sign up and stay updated
Get the latest property news, home solution tips, interior design ideas and property guides.
By subscribing, you consent to receive direct marketing from iProperty.com Malaysia Sdn Bhd (iProperty), its group of companies and partners. You also accept iProperty's
Terms of Use
and
Privacy Policy
including its collection, use, disclosure, processing, storage and handling of your personal information.
You're subscribed!
You will receive an email from us soon with some great tips and tricks to help you on your property journey.