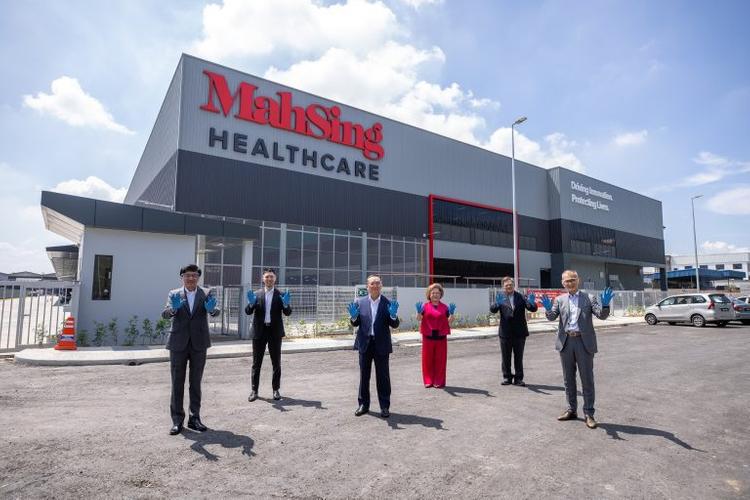 22 APRIL , KAPAR – Mah Sing Group Berhad (Mah Sing) has successfully completed the testing and commissioning of its first two glove production lines in its first glove manufacturing factory located in Kapar, Klang and is expected to start operation in May 2021. The Group anticipates the first shipment of gloves to be delivered in May and June 2021.
 The glove manufacturing venture is part of Mah Sing's plan to strengthen and expand its manufacturing division by venturing into the export-oriented, resilient healthcare sector. This will complement the Group's existing property division as the property market is cyclical and focus more on the domestic market.
 Mah Sing's Founder and Group Managing Director, Tan Sri Dato' Sri Leong Hoy Kum said, "Forty-two years ago, we started our plastics business and today we are one of the biggest high-tech plastic product manufacturers and one of the largest plastic pallets producers in Malaysia. We are also a property developer well-known for our quick turnaround business model to meet the current market property demand. For our glove business, I am proud of the rapid progress of the modern designed and good manufacturing practice factory."
"We will continue to look into various ways to enhance our business operations and meet our shareholders' expectations. Having started our new venture into gloves, we target to expand further under Phase 2 should the glove demand continues to outstrip supply for Phase 1. Looking ahead, the Group aims to be one of the top 5 glove producers in Malaysia in the future. The Group will also be exploring listing of its manufacturing/healthcare division separately to better unlock value for Mah Sing shareholders." Tan Sri Dato' Sri Leong Hoy Kum added.
 Mah Sing's Chief Executive Officer, Datuk Ho Hon Sang said, "With the successful completion of testing and commissioning of the first two lines, we are expecting to start operation in May 2021, with the first shipment of gloves is also expected to be shipped out in May and June 2021."
Mah Sing is on track to see another four production lines to be operational in 2Q2021 and followed by another six production lines in 3Q2021. These 12 double former lines are under the Group's Phase 1 of glove manufacturing business, which are capable of producing 38,000 pieces of gloves per hour per line, and leads to a maximum capacity of up to 3.68 billion pieces of gloves per annum. 
READ : Mah Sing introduces 'Come Home 2 Mah Sing'; offers payment-free up to 4 years
 Future Ready, Highly Automated Good Manufacturing Practice Factory  
Mah Sing's glove manufacturing factory is designed with an efficient layout and work flow in mind, with the administrative office directly linked to the production lines. The workplace is optimised to be future ready and will have enough space to accommodate more headcounts for the potential Phase 2 expansion. The second floor of the administrative office also houses two meeting rooms, a gallery to showcase the competitive capabilities of the Group, and also an observation deck where visitors can see the production lines directly from the office – offering them a unique factory experience.
The two-storey glove manufacturing factory is also fitted with automated processes designed for higher efficiency and cost-effective systems. It is equipped with an Enterprise Resource Planning (ERP) system and advanced Supervisory Control and Data Acquisition (SCADA) system to support the operations. This includes real time monitoring of the production of gloves, managing the operations of the factory's machines and equipment, order completion and delivery tracking.
Datuk Ho Hon Sang said, "Starting from scratch allows   us to   put   best   practices in place from the get-go. Our high speed production lines are equipped with auto strip, auto stack and auto count features as well as auto dosing of solutions for higher efficiency. There are also plans for auto-boxing and the factory will also be ready to adopt the IR 4.0 ecosystem to improve our efficiencies and competitiveness."  
Glove inspection room as well as Research and Development (R&D) laboratory are also available at the factory, enhancing Mah Sing's commitment to deliver quality product through competitive strength in product and material development, sustainable technologies, engineering and automation.  Over time, Mah Sing will gradually reduce reliance on labour as all 12 production lines kick in. Nonetheless, there will be sufficient workers to conduct quality checks on the gloves periodically as well as inspecting the factory's operations.
Mah Sing has also installed thick oven panels to insulate the heat released during the production of gloves, to safeguard factory personnel from the work risks. Air-conditioners will also be installed at the layering and packaging areas of the factory when all the lines are completed in the future, as an enhanced hygiene measure to create a dust proof environment, ensuring the quality of gloves produced.
 This glove manufacturing factory will be the exemplary model for our future factories to emulate, whereby we can replicate the scale, standard operating procedures (SOPs) and systems that are already in place. We also focus on enhancing the workers' welfare in the factory and have provided them with facilities such as male and female prayer rooms, air-conditioned sick bay, and a subsidised canteen which can accommodate up to 150 workers per session. We will also provide a secured locker room with 600 individual lockers for the factory workers to store their personal belongings during working hours." Datuk Ho Hon Sang noted.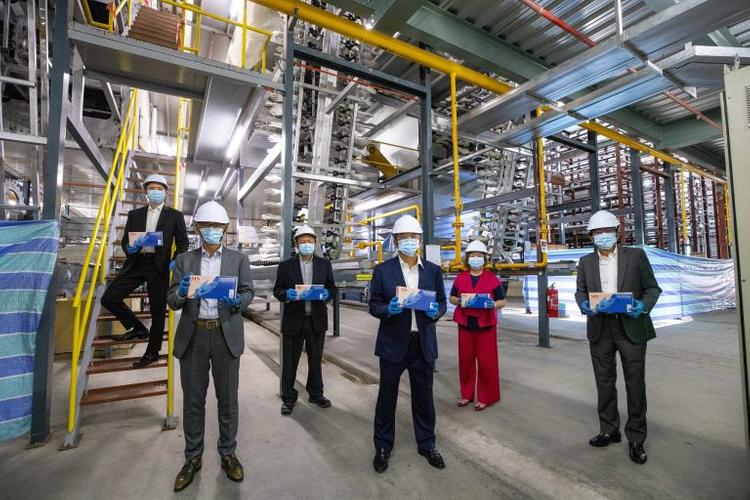 Mah Sing To Leverage On Sustained Demand Post-Pandemic
According to a research report by Hong Leong Investment Bank on 6th April 2021, the Malaysian Rubber Glove Manufacturing Association (MARGMA) estimates global disposable glove supply to increase 22% to 420 billion pieces in 2021. The association also noted that post pandemic average selling prices (ASPs) are expected to be 40-60% higher compared to pre-pandemic as a result of increased hygiene awareness worldwide and higher glove usage in general.
"Mah Sing is pleased with the ongoing development towards combating the Covid-19 pandemic in the country through the ongoing National Covid-19 Immunisation Programme (NIP). This would help to speed the country's economic recovery. Nevertheless, the Group is optimistic on the potential long-term growth of the glove industry and we seek to fill up the current demand and supply gap through our production capabilities in both nitrile and latex gloves. Besides original brand manufacturer (OBM) gloves under our MS Glove brand, Mah Sing will also be producing original equipment manufacturer (OEM) gloves. The Group will explore the possibility of manufacturing non-medical, industrial specialty and other gloves in the mid to long term." Datuk Ho Hon Sang said.
Mah Sing so far has obtained certifications from the relevant authorities namely the US Food & Drug Administration (FDA), and is progressing well in obtaining other certifications such as the Conformitè Europëenne (CE) Marking for the export to the European region. This shows Mah Sing's commitment in upholding the highest safety standards, along with the strength to penetrate and expand its presence in the international market for its products.
In addition, the Group has secured sufficient raw materials to meet the overwhelming orders and interests from its buyers and distributors. The buyers are mainly serving markets such as the United States, Canada, Middle East, Europe, United Kingdom, Japan, China, Korea, Singapore, Russia and Latin America. Mah Sing is encouraged by the support and confidence shown by these buyers, many of whom are prominent brands in the healthcare industry.
Datuk Ho Hon Sang elaborated, "As a new glove producer, we are not committed to any long term contracts with lower pricing. As such, compared to existing players, we have more flexibility to lock in spot orders at higher spot prices. The indicative orders quantities from more than 100 Letters of Intents received to-date have well exceeded our capacity for Phase 1 and even Phase 2. On the whole, we expect the glove manufacturing business to generate more recurring and steady income for Mah Sing, complementing the existing property and plastics businesses, and contribute positively to the Group's financials going forward.
If demand condition permits, Mah Sing could expand the Phase 2 by exercising the option for the next portion of the existing plant, or negotiate with landowner on the adjacent land. This could accommodate another 12 new production lines and increase the capacity up to another 3.68 billion pieces of gloves per annum.
Disclaimer: The information is provided for general information only. iProperty.com Malaysia Sdn Bhd makes no representations or warranties in relation to the information, including but not limited to any representation or warranty as to the fitness for any particular purpose of the information to the fullest extent permitted by law. While every effort has been made to ensure that the information provided in this article is accurate, reliable, and complete as of the time of writing, the information provided in this article should not be relied upon to make any financial, investment, real estate or legal decisions. Additionally, the information should not substitute advice from a trained professional who can take into account your personal facts and circumstances, and we accept no liability if you use the information to form decisions.