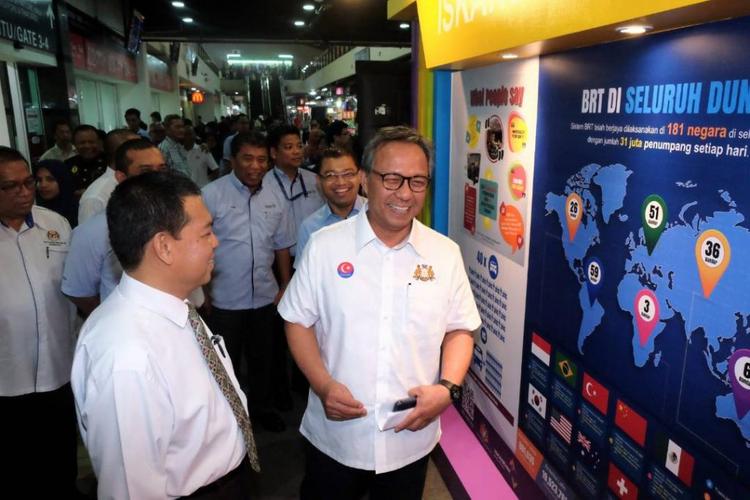 27 March, ISKANDAR MALAYSIA – The first IskandarMalaysia Bus Rapid Transit (IMBRT) information booth was officially launched today by Johor State Executive Council for Public Works, Rural and Regional Development, Datuk Ir. Haji Hasni bin Hj Mohammad at Larkin Sentral. This initiative is dedicated to give the Rakyat the information and updates on the IMBRT project, leading up to its operations in 2021.
The display will be in Larkin Sentral from 27 March till 31 December 2018.After which, it will move to other high traffic locations in and around Iskandar Malaysia, to enable more people to have access to updated information on the project. This is also part of IMBRT initiative to encourage mindset change from use of private vehicles to public transportation.
"Public engagements such as the event today are platforms how we can inform the public of the latest developments about Bus Rapid Transit (BRT) project as we continue to engage and obtain their views on the project."The BRT project is built with the Rakyat in mind – it will alleviate congestion by reducing vehicles on the roads, thus improving connectivity, and providingbetter access to jobs, opportunities and services such as education, healthcare and recreational facilities. This in turn will improve quality of life, addressing high living costs and support our aspirations towards becoming a Low Carbon Society," said Datuk Ismail.
Datuk Ismail added that since 1990, 165 cities across the globe have implemented BRT, with 121 more cities either in the stage of constructing or planning for their BRT. This includes Iskandar Malaysia. It is part of our plan towards becoming a strong and sustainable Metropolis of International standing. To be a frontrunner, we need a reliable, modern, systematic and green mode of public transport to support our growth. BRT is the lifestyle of the future.
Aside from an effective and reliable mode of public transport, IMBRT will also bring with it career opportunities. The Rakyat can look forward to up to 2,000 job opportunities with IMBRT – from bus drivers to administration and station staff.
IRDA together with relevant federal, state and local government authorities will initiate the Rapid Transit Bus (BRT) system to accommodate a targeted population increase of up to 3.0 million by 2025. The first phase of the BRT will be completed by 2021.