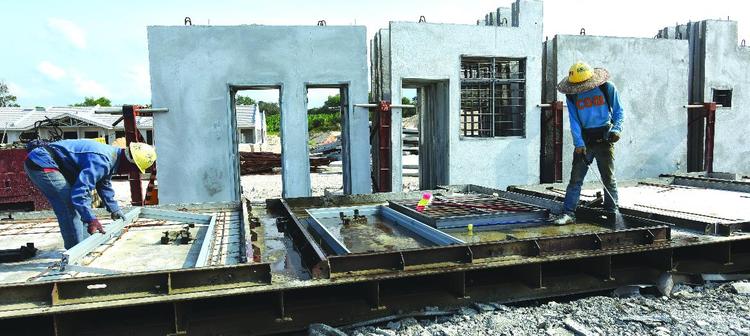 Malaysians were shocked last year to hear that a young woman was crushed to death when a crane hook at a construction site fell on her car at Jalan Raja Chulan, Kuala Lumpur. A few dismissed it as a freak accident and mourned for the victim's family loss.
Sadly, many other fatalities go unheard of by the public as these cases involved construction workers, who are almost all foreign. Statistics by the Department of Occupational Safety and Health (DOSH) reveal that the construction sector has one of the highest fatality records with 89 fatalities in 2014 and 140 in 2015; from January to October 2016, this figure was 58.
Shifting Gears To Progress To The Next Level
Taking cognisance of safety issues plaguing the industry, the government has embarked to further strengthen the foundations of the construction industry.
The Construction Industry Transformation Programme (CITP) 2016-2020  was launched in September 2015 by the Prime Minister, and details 4 strategic thrusts – Quality, Safety and Professionalism (QSP), Environmental Sustainability, Productivity and Internationalisation.
Under the QSP thrust, one of the main goals is to reduce the construction fatality rate by 50%, from 10.94 per 100,000 workers in 2015  by 2020. Comparatively, the National Occupational Fatality rate in Malaysia in 2015 is 4.84 per 100,000 workers. The target outcome under the QSP is to inculcate quality and safety as part of the industry's culture.
One of CITP's features will be the mandating of the allocation of a certain percentage of projects' cost for safety and health requirements to be included in project tenders.
Besides that, the Construction Industry Development Board (CIDB) Act (Act 520), was amended and tightened which came into force in June 2015. It includes new provisions which address quality and safety in construction such as Section 34 which spells out the responsibility of contractors which regards to ensuring the safety of the building during and after construction.
Mentality: A Huge Problem
Even with the advancement of technology and industry regulations and initiatives in place, why do we still often hear news of accidents at construction sites?
 Ahmad Farrin Mokhtar, General Manager of the Safety, Health, Environment & Quality(SHEQ) Department under CIDB  says that construction work itself is a high-risk activity compared to say operations or maintenance. It requires workers to be in high places, involves the lifting and manoeuvring of very heavy objects, and many of these activities are being carried out simultaneously on the same construction site.
Nevertheless, the biggest hurdle faced by many countries including Malaysia is the overall mentality. It is true that there are adequate safety guidelines, policies and regulations in place  – however many stakeholders, contractors especially take safety measures for granted. These unscrupulous few do not see the harm in skimping on safety equipment and additional procedures in order to gain time and cost savings.
The common practice is to 'close one eye' as long as the project gets completed on time and if more cost gets shaved off, all the better! Only when something terrible happens, i.e: a major accident or a fatality, will these parties scramble to assess their safety procedures and strive to fix all their shortcomings.
Common cause of construction accidents
The safety and welfare of construction workers are often not ensured as the implementation of safety procedures largely depends on the policies of the company/construction stakeholder. Among the many safety policies not adhered to are:
The Firm Hand of the Law
Ahmad Farrin stresses that those who turn a blind eye towards industry standards and regulations do not get to escape scot-free. Construction players found negligent will be penalised.  An example of a case which was tried in court under the amended Act 520 – A construction company was fined RM100,000 by the Sessions Court for the offence of failing to ensure safety during the construction of a Mydin Hypermart in Alor Gajah, Malacca; causing the death of three foreign workers in June 2014.
As testified by a CIDB official, the contractor failed to take care of the security aspects of the building resulting in the roof collapsing. The company was liable under Section 34D (1) of the CIDB (Amendment) Act 2011 which provides for a maximum fine of RM500,000 or imprisonment of up to two years or both if convicted.
Leading By Example
Having said that, there are also companies which are quite exemplary in making site safety a priority. As construction is an industry where projects are outsourced to various smaller sub-contractors by the main contractor, the hammer falls to the former when it comes to imposing strict safety adherence for all construction jobs. Ultimately, however, the developer is the one who sets the tone where safety is made mandatory in the first place.
For instance, a property developer who only hires contractors that fulfil the minimum safety requirements/standards as detailed by in the Safety & Health In Construction Code by the International Organisation for Standardisation (ISO) instead of looking at the lowest bid.  Some even go the extra mile by cultivating a culture of safety through continuous initiatives and programmes.
I had the pleasure of speaking to one such developer, LBS Bina Group. As shared by its  Managing Director,Tan Sri Lim Hock San, in its effort towards improving overall safety performance at their project sites, the LBS Bina team has and continues to investigate the root causes of construction accidents.
Most occur due to workers' negligence, failure of workers to obey work procedures, operating equipment without safety devices, poor site management and the complacent attitude among workers at construction sites. The findings are then utilised to formulate safe working conditions which enable for a conducive environment for construction workers.
Tan Sri Lim says that the company adopts and holds steadfast to a "Prevention Before Cure" mantra when it comes to construction safety. Some of the developer's efforts include:
Together We Can Do So Much More
Ahmad Farrin believes that strategic partnerships between industry stakeholders play a crucial role in bringing industry standards to the next level. Recognising this, CIDB has made a step in the right direction – In May 2016, CIDB has sealed a memorandum of collaboration with the Department of Occupational Safety and Health (DOSH) to work together towards reducing the fatality rate in the local construction industry. One of the joint initiatives will be a handbook depicting prior accident cases and analysing them to serve as lessons and examples for construction players.
Other efforts include partnerships between MRT Corp (MRTC), CIDB and the National Institute of Occupational Safety and Health (NIOSH). An MOU was signed last September, with future areas of cooperation including raising awareness, developing competency in high-risk activities, consultancy and information sharing. The MOU also saw the establishment of a purpose-built construction competency and safety training centre at Sungai Buloh, Selangor.
So far, the training centre's Master Trainer Programme has produced 40 master trainers, who went on to help train 300 trainers and assessors. They, in turn, helped ensure that nearly 20,000 workers on the MRT Line 1 are "safety-ready".
Conclusion
Ahmad Farrin reiterates that the challenge is to ensure that all parties involved are trained and adhere to existing guidelines and not take shortcuts for the sake of short-term convenience. Mindsets must change; inculcating the culture of safety will be the cornerstone in transforming the image of the construction industry as a whole – the public generally views construction jobs as dirty and dangerous work with poor wages.
Ironically, construction work is seen as a professional job in Australia – the workers there earn much higher wages due to the high level of work quality and worker professionalism.
We must work to emulate Australia's success and construction players must know this: inculcating a culture of safety will also deliver lucrative spillover effects – it boosts brand image and provides for consumers confidence in their goods and/or services.
Disclaimer: The information is provided for general information only. iProperty.com Malaysia Sdn Bhd makes no representations or warranties in relation to the information, including but not limited to any representation or warranty as to the fitness for any particular purpose of the information to the fullest extent permitted by law. While every effort has been made to ensure that the information provided in this article is accurate, reliable, and complete as of the time of writing, the information provided in this article should not be relied upon to make any financial, investment, real estate or legal decisions. Additionally, the information should not substitute advice from a trained professional who can take into account your personal facts and circumstances, and we accept no liability if you use the information to form decisions.