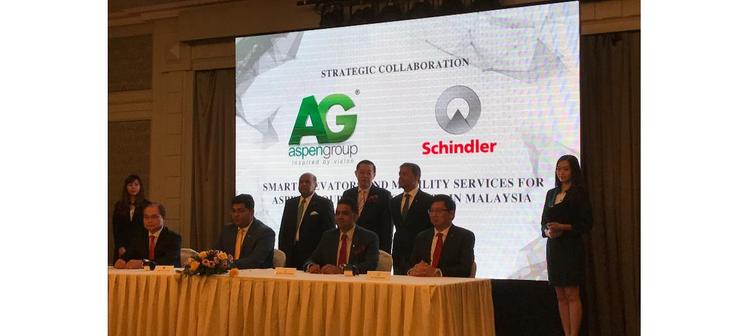 GEORGE TOWN, 5 December: AG lnnovation Sdn Bhd (a subsidiary company of Aspen Group) is collaborating with IBM Malaysia Sdn Bhd to create the first and most comprehensive cloud infrastructure and technology services platform in Malaysia. The cloud innovation platform, hosted in Penang, is designed to serve local and international users.
The collaboration involves the purchase and subscription of IBM Blue Box, Bluemix' application development, technical services and consultancy for Aspen Group to create cognitively and next generation solutions and services globally.
The collaboration was sealed today by Dato' M. Murly, Group chief Executive officer, Aspen Group; Mr Woo Kok Weng, Executive Director, Aspen Group; Ms Chong Chye Neo, Managing Director' IBM Malaysia and Encik Arshad Munir sharif, General Manager, IBM Cloud, IBM Malaysia' yAB Tuan Lim Guan Eng, Chief Minister of Penang, and Dato' seri Nazir Ariff, chairman and Executive Director of Aspen Group witnessed the historic event.
Aspen Group has allocated RM100 million to invest in smart city infrastructure eco-system and today's partnership with IBM is inked for initial RM10.3 million investment in comprehensive cloud infrastructure to aggregate expertise and skills to usher the adoption of cognitive apps among Penangites and Malaysians. The availability of the cloud innovation platform would also spur a culture of innovation among students and enthusiasts.
The strategic collaboration would also enable a vibrant and agile ecosystem that will provide a platform for multinationals, local businesses, start-ups and residents to scale their participation in the digital economy.
"The economics of cloud computing can potentially change the game for many businesses. We envisage new forms of business models would emerge by providing the platform for innovation to happen. I believe this will trigger a massive wave of innovation from technopreneurs,' said Dato' M' Murly, Group Chief Executive Officer of Aspen Group. The IBM enabled cloud services will help to bring together multiple data sources, scale systems and incorporate cognitive services to drive business value.
lt also enables businesses to create, deploy and manage services in the cloud. The establishment of this cloud innovation platform will enable us to integrate the smart solutions for Aspen Vision city development. By infusing intelligence through innovative services' smart technologies and cognitive solutions, Aspen Vision city will become an attractive business and innovation destination for local and international organisations.
"This is undoubtedly an exciting project, with an immense potential to shape urban environments where the application of cognitive solutions can provide a positive and sustainable difference in the quality of life for the people and businesses here and beyond ," Dato' M. Murly emphasised.
Featuring a spectacular mix of residential and commercial properties, Aspen Vision City is complemented with first class infrastructure and amenities. Undertaken via a joint venture partnership between Aspen Group and lkano Pte Ltd, this flagship development is masterfully planned to be a bustling hub. 
The development components include the regional integrated shopping centre and the first IKEA store in the Northern Region of Malaysia, both of which is to be managed by lkano Pte Ltd, Columbia Asia Hospital, mixed development of residences, offices, commercial districts, medical facilities, international business hotel, a 25 acre central park, an international school, retail shops and an integrated central transportation hub for Seberang Prai. 
With a gross development value of RM10 billion, the first phase of Aspen Vision City is slated for completion in 201g. The first phase includes Vervea commercial precinct, Columbia Asia Hospital, IKEA store and part of the central park which will serve as a green oasis in the city.
 ln August, Aspen Group has also inked a strategic collaboration with Telekom Malaysia to facilitate the deployment of smart services, high-speed telecommunications as well information and communication technology (lCT) services for Aspen vision city development. 
Aspen Vision city is poised to emerge as the first and only integrated smart city in Malaysia with this level of infrastructure investment. This development also sees the collaborations with global technology and local telecommunication giants as eco-system partners as established by Aspen Group.