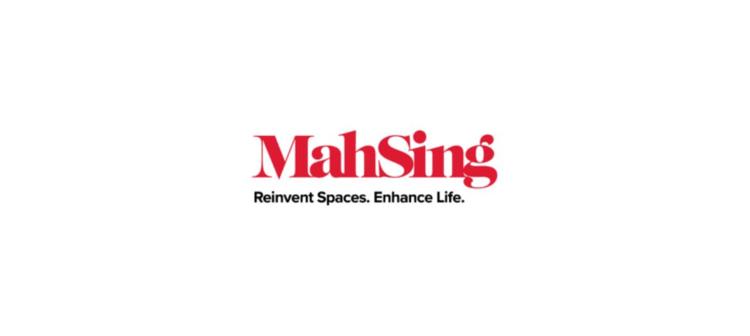 CIMB's report
Mah Sing Group
Bigger war-chest for land bank expansion
■ 1H17 core net profit at 49-50% of our and Bloomberg consensus full-year numbers.
■ 1H17 property sales accounted for 46% of its RM1.8bn full-year target. We expect 2H17 earnings to be driven by more robust sales and RM3bn unbilled sales.
■ Potentially 20% sales growth in 2H17F vs. 1H17. RM1.7bn in launch pipeline.
■ Net cash of RM704m as at 2Q17 to execute more land banking moves.
■ Strong sales and new land bank as potential catalysts. Maintain Add and TP.
1H17 core net profit in line
1H17 core net profit of RM162m (excluding the accrued distribution to perpetual sukuk holders) made up 50% of our and 49% of Bloomberg consensus full-year forecasts. The results were in line as we expect earnings momentum to be supported by more robust sales in 2H17. No major surprises in overall results, with the slight decline in 1H17 EBITDA margin to 17% (1H16: 19%) being largely expected. We forecast EBITDA margin of 16% for the full-year. The absence of dividends was no surprise.
1H17 property sales at 46% of full-year target
Mah Sing achieved RM819m total property sales in 1H17. This represents 46% of its unchanged total full-year target of RM1.8bn. Major contributors to 1H17 sales were largely Klang Valley-centric developments that made up 71% of total 1H17 sales. Key initiatives driving property sales include the "RM23m Celebration Rewards" in conjunction with the group's 23-year anniversary. Southville City @ KL South (RM177m) and Lakeville Residence (RM257m) were the largest sales generators.
Ramping up sales momentum in 2H17
The group observed a sequential mom improvement in property buying sentiment in JulAug and plans to ramp up sales momentum in 2H17. Its unchanged RM1.8bn full-year sales target implies 20% growth in property sales in 2H17 vs. 1H17. Total planned launches in the pipeline amounts to RM1.7bn, mainly in Klang Valley, with sustained focus on the affordable and mass market segments. Essentially, 73% of Mah Sing's FY17 sales target consist of properties priced at RM700k and below.
RM704m net cash as at end-Jun 2017
The group turned net cash of RM704m as at end-2Q17 (Total cash: RM1.5bn, total debt: RM805m). Even after setting off against the land purchases YTD worth RM496m, the group still has ample internal cash to further fund land-banking moves in 2H17. It made four new land acquisitions totaling 41 acres in 1H17 (costing RM91-387 psf). We expect the group to announce a few more land acquisitions before end-17.
RM3bn unbilled sales as at 2Q17
We expect overall property earnings to improve in the coming quarters underpinned by unbilled sales of RM3bn as at end-2Q17, or equivalent to 1.1x its property sales in FY16. For FY17F, the group has targeted the sale of residential properties priced at RM700k and below to make up 73% of its sales target. This is higher than the 50% share of FY16's actual sales of RM1.8bn.
Maintain Add
We retain our Add call on Mah Sing. More land acquisitions would enhance its sales outlook and potentially improve investor sentiment about the stock, in our view. We maintain our FY17-19 EPS forecasts and target price, which is pegged to a 20% discount to RNAV. The key risk to our Add call is a sudden deterioration in property market sentiment and weaker-than-expected property sales.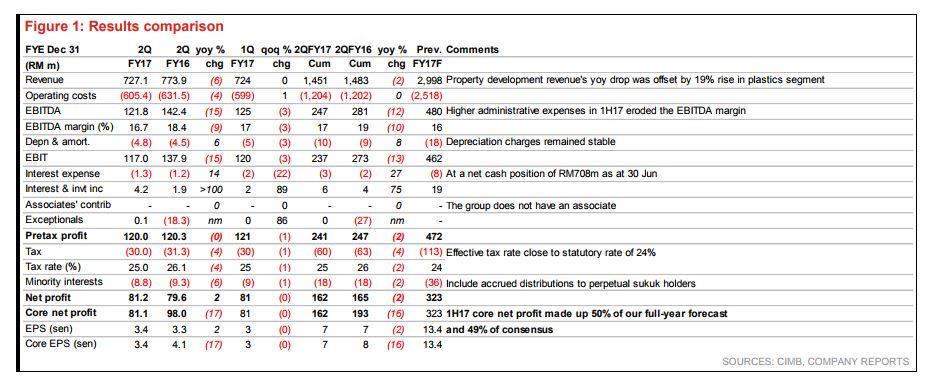 Kenanga's Report
Mah Sing Group Berhad
New Launches to Drive 2H17 Sales
1H17 CNP of RM163m met expectations while sales for the period of RM819m is also on track to meeting our and management's full-year target. No dividends, as expected. We expect more landbanking news with emphasis on massmarket housing in key urban areas. No changes to earnings. Maintain OUTPERFORM with a higher TP of RM1.70 as we increased our GDV replenishment assumptions.
On track. 1H17 CNP of RM163m met expectations, accounting for 48% of street's and 46% of our full-year estimates. On the back of RM1.07b worth of launches which are mainly driven by on-going projects, the group chalked up RM819m sales over 1H17 or 46% each of our FY17E target of RM1.80b and management's minimum target of RM1.78b. We think this is extremely commendable considering that there were no notable new launches in 1H17. No dividends, as expected.
Strong net cash position. QoQ, 2Q17 CNP was up by 25% to RM90m largely due to the absence of the perpetual bond interests, which are incurred semi-annually. YoY, CNP slide by 16%. While revenue was marginally lower (-2% YoY), 1H17 property segment's pre-tax margin was compressed by 1.6ppt to 17.6% on lower margin product recognition as MAHSING is realising more affordable housing projects, while its plastic segment's pre-tax margins remained stable at 5.1%. MAHSING is now in a strong net cash position post its RM650m perpetual bond issuance in Apr 2017.
Expect more land banking news, given their light balance sheet. We expect more Klang Valley mass-market driven type projects to be secured. Furthermore, pending is the conclusion of the Titiwangsa land deal issues. We believe that 2H17 launches will exceed that of 1H17. Besides continuous efforts to clear inventories/WIPs, key new launches in 2H17 include M Vertica@Cheras, M Centura@Sentul, iParc@BukitMertajam, Penang, M Aruna@Rawang while also pushing out new phases of on-going projects like Southville (Savanna 2), Southbay (M Vista) and Meridin East (Ph 2 of Fern). These properties are largely affordable residential priced between RM330-600k/unit, which should be very digestible by the market. The group intends to deliver VP on RM637m (+22% YoY) worth of projects in FY17.
No changes to earnings. Unbilled sales of RM3.02b provides more than one year's visibility.
Slightly higher TP of RM1.70 (from RM1.67) based on an unchanged property RNAV discount of 48% (in-line with big-cap average) or implied SoP discount of 40% to a higher FD RNAV of RM2.85 (+2% increase). We expect more land banking news over the next 6-12 months and thus, we are increasing our GDV replenishment assumptions to RM1.70b from RM0.70b; however, note that our estimates still include the Titiwangsa land GDV (RM650m) which makes up 2.0 sen of our FD SoP. In the meantime, the company offers a dividend yield of 4.3%, which is above big-cap (>RM3b market cap)developers' average yield of 2.9%. Reiterate OUTPERFORM.
Risks include: (i) weaker-than-expected property sales, (ii) margin issues, (iii) negative real estate policies, and (iv) deterioration in lending environment.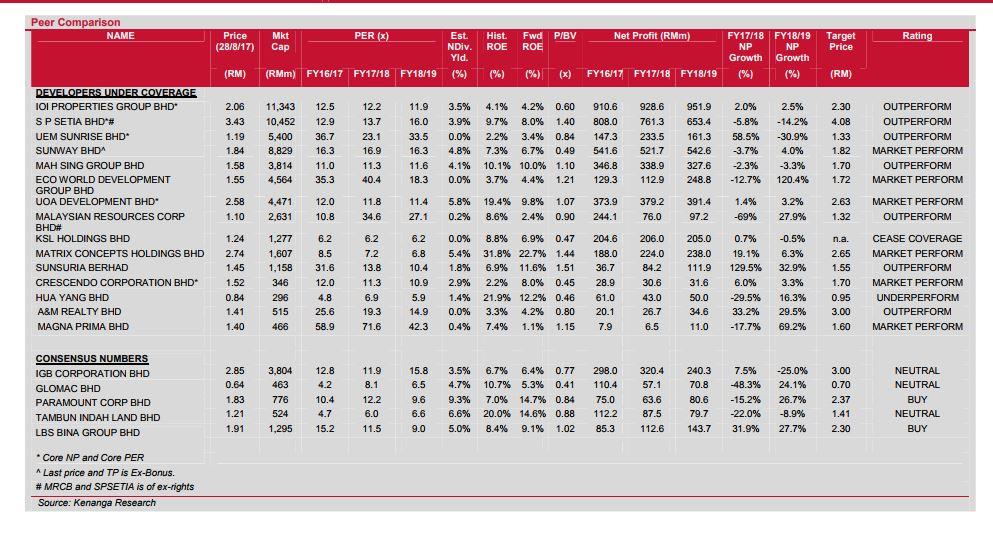 RHB's Report
Mah Sing Group
Still Looking For More Land
Mah Sing's 2Q17 results are in line with our and market expectations. Net cash rose substantially, mainly due to the completion of perpetual securities as well as the handover of completed projects in 2Q. Pipeline launches of mid-range properties in the Klang Valley should help it match management's full-year sales target of MYR1.8bn, vs MYR819m in 1H. Strategically located new landbank may help in the re-rating of the company's RNAV further. Maintain BUY, with a MYR1.70 TP (8% upside).
Within expectations. Mah Sing's 2Q17 results came within our and market expectations. Profit margins during the quarter remained stable. Meanwhile, the cash balance in its balance sheet surged to MYR1.5bn from MYR924m last year. This was mainly due to the completion of the issuance of perpetual securities worth MYR650m in April, as well as final billings from the handover of completed projects in 2Q17. However, this should just be temporary, as the cash would be used to settle the payments for all the land parcels purchased – it is in the midst of completing these acquisitions. The three land plots in Cheras, Sentul and Bukit Mertajam are worth almost MYR370m in total.
MYR409m new sales in 2Q17. New property sales were quite stable in 2Q17, reaching MYR409m (1Q17: MYR410m) and bringing 1H's total to MYR819.3m. The key contributors are Southville City @ KL South (MYR177m), as well as Lakeville Residence @ Taman Wahyu (MYR257m). Overall, projects in the Klang Valley region accounted for 71% of the sales in 1H17.
Pipeline launches. Mah Sing should be able to meet its MYR1.8bn sales target by year-end. Its existing Business Incentive Grant programme as well as its MYR23m rewards scheme should spur sales for selective projects. In the pipeline, it is set to launch M Vertica in Cheras (two blocks out of five), and M Centura in Sentul (which has a total of four blocks). Both sites were just acquired a few months ago, and are planned for mid-range high-rise projects. Some service apartment blocks in Southville City Bangi would also be rolled out, as well as some link homes in M Aruna Rawang. In Penang, a new industrial park in Bukit Mertajam is also set to be launched. We think this industrial product may see a positive response, as Mainland Penang is also one of the key industrial, manufacturing and electric and electronic centres in Malaysia.
Forecasts. We keep our earnings forecasts unchanged. Unbilled sales declined to MYR3.02bn, from MYR3.47bn as at 1Q17.
Maintain BUY. We maintain our BUY rating and MYR1.70 TP, based on a 30% discount to RNAV. Management is committed to looking for more land, particularly in the Klang Valley region, given its target to have 75% of landbank exposure in the Klang Valley area vs the current 67% in two years. Strategically-located sites would help in re-rating the company's RNAV.
KAF's Report
Mah Sing
Inventory liquidation underway
1H earnings performance was robust but we expect 2H to be stronger as new presales kick in. Management is confident of delivering on its sales target of at least RM1.8bil this year. Rising residential presales of competitively priced properties and a pick-up in transactions now underway should underpin a narrowing in the discount to NAV. NAV growth may come from astute landbanking and maturing development life cycles. BUY with an unchanged fair value of RM2.10 – based on 25% discount to our NAV of RM2.81.​
1H results review: inventory liquidation
Mah Sing reported net profit of RM90m for 2Q17, bringing earnings to RM181m for the first six months of the year. On an annualized basis, Mah Sing's earnings were in line with our full year estimate of RM380m given our expectations of a stronger second-half due to the high tail-end profits from the completion of some RM637m of properties, compared to RM523m in 2016. Management held back new presales in 2Q17. The group instead focused on clearing its unsold inventory by embarking on numerous marketing campaigns in 2Q17. This has had some success in moving unsold stocks particularly at the retail shops at its flagship Southville City where take-up rate has risen to more than 50% in 2Q17. The renewed demand for the retail shops was also underpinned by the physical completion of the eight residential blocks.
The group focused on clearing its unsold stock, raking in some RM409m in sales in 2Q17. Total sales stood at RM819m in 1H17. Management reiterated its sales target of at least RM1.8bil in 2017, implying sales of at least RM1.0bil in 2H17. As in prior years, Mah Sing did not declare any interim dividend in 1H17.Nonetheless, management will be paying out 6.5sen in dividend declared in 2016 on 14 September 2017. At the current share price of RM1.57, this translates to a decent yield of 4.1%.
Accelerating presales in 2H16 to replenish unbilled sales
Mah Sing plans to accelerate new presales in 3Q17 starting with the two phases on terrace houses (GDV: RM200m) at Bandar Meridin East next month. At M-Residence in Rawang, the group will also be launching terrace houses with a GDV of RM100m. The final block of service apartments (GDV: RM185m) in D'Sara Sentral will be launched in 3Q17. In Penang, Mah Sing will be launching affordable apartments (GDV: RM100m) at its flagship SouthBay. Savanna II comprising affordable apartments will be launched in Southville City. We expect demand for Savanna II to be strong, judging by the overwhelming market response to Savanna where all the eight condo blocks have been sold. Mah Sing will soon be previewing M-Vertica, with maiden launch of service apartments targeted for 4Q17. We expect M-Vertica to be as successful as its Southville City development given its strategic location surrounded by mature neighborhoods in the inner city, excellent transport connectivity and market clearing pricing strategy. M-Vertica should supplant the earning contributions from Southville City to anchor earnings growth, we believe.
NAV growth from more landbanking initiatives
We believe Mah Sing has good prospects of NAV growth even in the face of a flattish residential pricing cycle. This is because at the micro level, Mah Sing's well-executed projects should experience higher GDV as the project development cycle matures. Southville City (GDV: RM11bil) is a good case in point. The maiden launch of Savanna comprising eight condo blocks saw average selling price step up from just RM330psf to RM500psf in less than two years. This price strength paved the way for the debut of Cerrado at RM550psf. We believe that the completion of interchanges costing some RM130m at Southville City by end-2007 will underpin capital value growth. Furthermore, management is actively talking to MRT Corp to extend the MRT stations to Bangi given its high catchment area. Currently, MRT 1 station is at
Kajang
while MRT II will be located in
Putrajaya
.
As of end-1H17, Mah Sing's balance sheet has improved to net cash, with cash balances of RM1.51bil against total debts of RM1.34bil. Despite acquiring four tracts of development land with a combined GDV of RM4.3bil in 1H17, management is on the lookout for more acquisitions. The group targets to increase its landbank concentration in the Klang Valley from 67% currently to 75% over the next two years. The focus would continue to be on the mass housing market with average pricing below RM500,000/unit. More than 50% of its future presales would be priced competitively below RM500,000/unit to cater to first time house buyers where there are numerous incentives to encourage home ownership. Management expects demand for affordable homes to remain robust as evident from the recent strong take up rates at Bandar Meridin East and Southville City.
A property laggard
Mah Sing's earnings have more than doubled from just RM170m in FY11 to RM361m in FY16, representing an earnings CAGR of more than 25%. At current elevated earnings level, we believe that the high growth phase may be over. In our opinion, Mah Sing is moving into a more sustainable steady growth phase, characterized by modest earnings growth but with lower balance sheet risk. A flatter growth trajectory may not be necessarily bad particularly if management embraces capital management to return surplus cash to shareholders. Within this context, Mah Sing is committed to delivering its dividend policy of at least 40% of earnings. We forecast Mah Sing will grow its earnings by a modest CAGR of 4-5% (FY11-FY16: 16%), from an estimated RM380m in FY17F to RM415m in FY19F. Based on a sustainable dividend payout of 40%, we estimate dividend per share to be about 6.5-7 sen, over FY17F-FY18F. Based on its last traded share price of RM1.57, this translates to an attractive dividend yield of 4.5%.
Mah Sing's share price has lagged the rising market YTD but we expect its relative price underperformance to reverse. Of late, we have seen a positive turn in consensus rating on the stock as evident from numerous upgrades. We believe Mah Sing still offers the best proxy to robust residential demand. Based on its last traded price of RM1.57, the stock is trading at a depressed 43% discount to our NAV of RM2.81. We believe that the steep discount is unwarranted given its strong balance sheet, entrepreneurial management team under the stewardship of Tan Sri Leong and a stable dividend policy. NAV growth for value-accretive land deals is also now in motion.
TA's Report
Mah Sing Group Berhad​
Sales Target on Track​
Review​
Excluding the distribution to perpetual sukuk holders amounted to RM18.3mn paid in 1Q17, Mah Sing reported normalised net profit of RM162.5mn in 1H17. Results came in within expectations, accounting for 47% and 46% of ours and consensus' full-year estimates respectively.
1H17 revenue and net profit edged lower by 2.2% and 1.8% YoY to RM1.45bn and RM162.5mn respectively. EBIT margin contracted 0.2%-point on higher selling, marketing and administrative expenses (+7.7% YoY).
Sequentially, Mah Sing's 2Q17 normalized net profit advanced by 25.3% to RM90.4mn despite a marginal 0.5% growth in revenue. Sequential profit grew at a faster pace as the immediate preceding quarter results were impacted by the distribution to perpetual sukuk holders.
Mah Sing recorded new property sales of RM409mn in 2Q17 (flat QoQ, +13% YoY), bringing the 1H17 sales to RM819.3mn (+6.5% YoY). Bulk of the 1H17 sales were derived from Southville City and Lakeville Residence, which recorded new sales of RM177mn and RM257mn respectively (collectively accounted for 53% of YTD sales). Unbilled sales eased to RM3.0bn (1.1x our projected FY17 property revenue) from RM3.5bn a quarter ago.
Impact
No change to our FY17-19 earnings forecasts. Our FY17/18/19 sales assumptions are RM1.9bn/RM2.5bn/RM2.7bn respectively.
Outlook
With 1H sales accounted for 46% of Mah Sing's 2017 sales target of at least RM1.8bn, we believe Mah Sing is on track to achieve its sales target. The group plans to roll out new project worth RM1.7bn in 2H17 – see Figure 1. Key new projects to be introduced in 2H17 include M Vertica, M Centura and M Aruna in the Klang Valley, and M Vista Southbay City Penang.
Management intends to continuously match its products to market demand with focus on rolling out more mid to high-end products, catering for first time home-buyers as well as upgraders. For 2017, 73% of the group residential sales target points at RM700k and below per unit.
After two years of silence in landbanking activities, Mah Sing has renewed its acquisition trail, leveraging on its solid balance sheet and the availability of prime lands with reasonable pricing in the current soft market. YTD, the group has locked in 4 land deals with a combined GDV of approximately RM4.3bn – see Figure 2. With the new acquisitions, it has a strong portfolio of projects with a combined potential GDV and unbilled sales of approximately RM29.5bn, which is expected to sustain the group's revenue for the next 8-10 years.
The group's balance sheet is in net cash position with total cash pile of RM1.5bn. With that, we believe the group is in a strong position to expand its landbank. In terms of location preference, management indicated the group will be focusing on acquiring more lands in Greater Kuala Lumpur as property demand in this region is more resilient driven by population and economic growth. Over the next 2 to 3 years, management aims to increase the group's undeveloped GDV in the greater KL area to 75% from 67% currently.
Valuation
We maintain our target price of RM1.76/share, based on unchanged 13x CY18 EPS. We continue to like Mah Sing's healthy balance sheet, focused strategy to provide mass-market housing in the strategic location such as Klang Valley. Maintain Buy.
Disclaimer: The information is provided for general information only. iProperty.com Malaysia Sdn Bhd makes no representations or warranties in relation to the information, including but not limited to any representation or warranty as to the fitness for any particular purpose of the information to the fullest extent permitted by law. While every effort has been made to ensure that the information provided in this article is accurate, reliable, and complete as of the time of writing, the information provided in this article should not be relied upon to make any financial, investment, real estate or legal decisions. Additionally, the information should not substitute advice from a trained professional who can take into account your personal facts and circumstances, and we accept no liability if you use the information to form decisions.