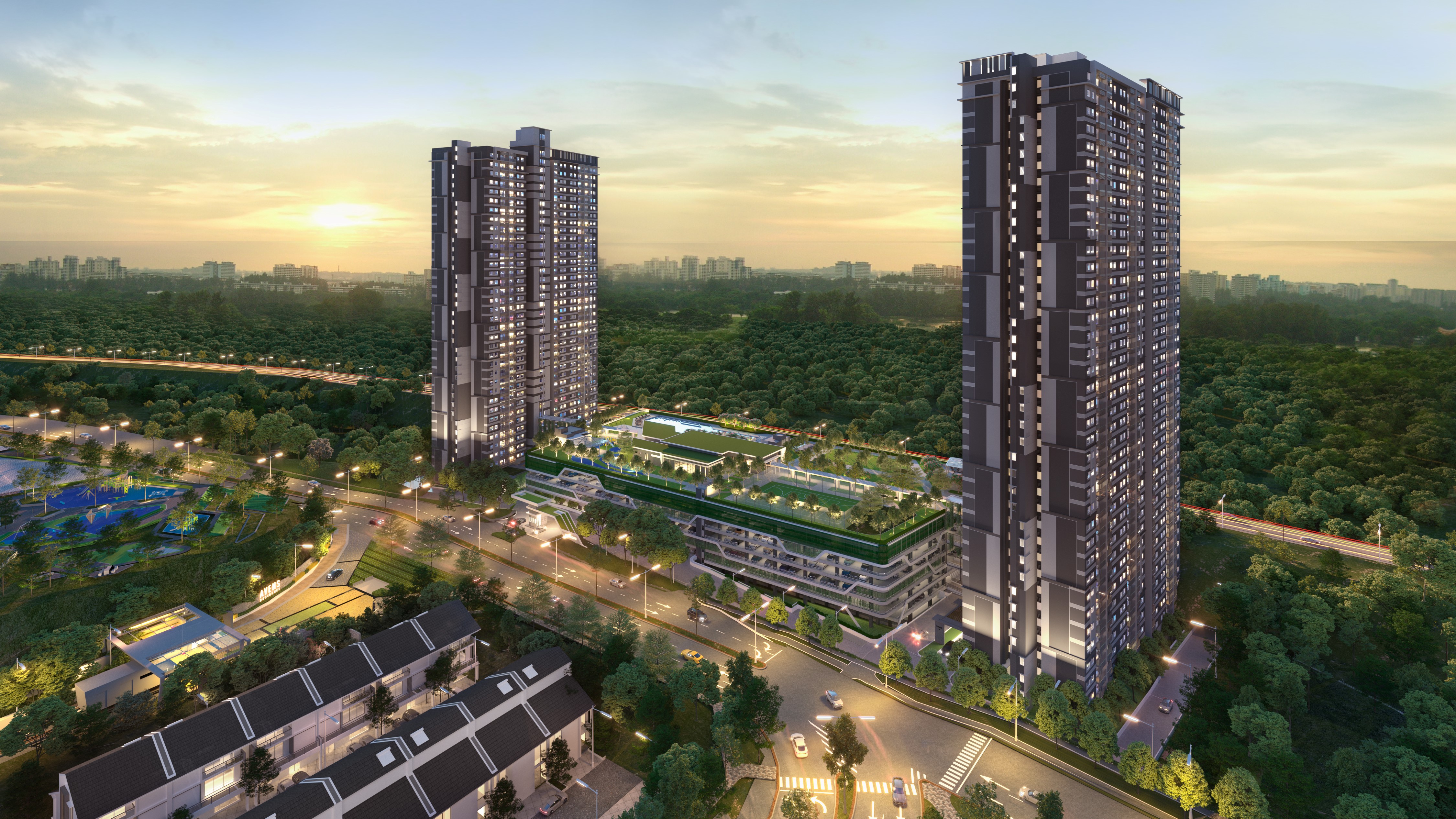 Sensory Residence is located in Southville City, a booming 428-acre township in Bangi. These serviced apartments are precisely designed to meet the growing needs of the suburban cosmopolitan, and this much-anticipated residential sanctuary will set a new standard in holistic living. Sensory Residence, a development by Mah Sing Group Berhad, is surrounded by beautiful greenery and an extravagant variety of shopping, dining, and leisure venues. Additionally, the development comes with a profusion of unique and thoughtful amenities of its own, guaranteeing its residents a lavish feast for all senses.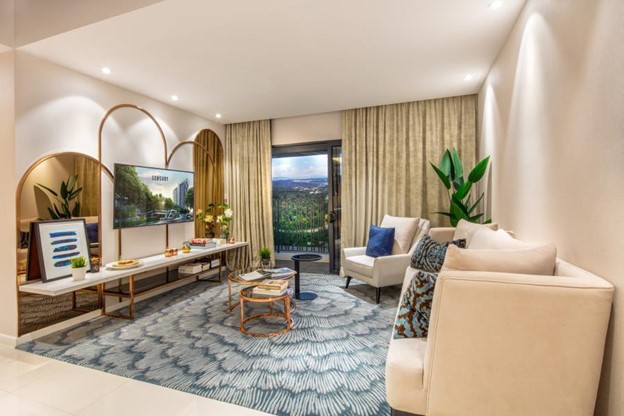 This freehold development consists of 2 blocks of serviced apartments with a total of 965 units. Tower A was completed in August 2022 and is ready for occupancy. Tower B is expected to be completed in the fourth quarter of 2023. It comes in three different layouts: Type A, A1, and A2. Type A units are 888 square feet, while types A1 and A2 are 914 square feet. Each apartment has 3 bedrooms, 2 bathrooms, and 2 parking spots. Pricing starts at RM389,000*, making it ideal for newly formed families seeking a holistic living environment free of the usual encumbrances found in urban areas.
If variety is the spice of life, Sensory Residence provides an explosion of flavours for residents and their loved ones. Choose from a beautifully designed and fully-equipped podium deck as well as a plethora of facilities on various levels, a gym, thematic gardens, a futsal court, a swimming pool and even comfortable pavilions spread across its expansive estate for a new sensory experience every day. Feel relieved knowing that there is always a unique way to spend time with friends and family.
One factor contributing to Sensory Residence being a great place to live is its location in an established neighbourhood with plenty of amenities nearby. Mercearia, MR. DIY, Tealive, 99 Speedmart, 7-Eleven, MyNews, Cardock Academy, Naturalife Pharmacy, Greenview Islamic International School, and KFC are currently located in Southville City.
Southville City is strategically located and surrounded by major highways such as the Elite Expressway (ELITE), the South Klang Valley Expressway (SKVE), and the KL-Seremban Highway, providing residents with good connectivity in the event that they decide to venture away from their green enclave home.
About the Developer
Southville City Sdn Bhd is a subsidiary company of Mah Sing Group Berhad. As one of Malaysia's leading property developers, Mah Sing is also one of the country's fully integrated developers, having residential, commercial, hospitality, and industrial projects. With more than 50 projects under its belt, Mah Sing's presence spreads across Greater Kuala Lumpur, the Klang Valley, Penang Island, Johor, and Sabah.
Mah Sing successfully built up a strong and diverse portfolio over the course of two decades that consists of high-rise residential projects, master-planned townships, integrated developments, Grade A office buildings, retail projects, hospitality, SoHo and industrial developments.
For almost 30 years, Mah Sing has continuously created iconic developments to deliver quality homes to meet the market demand. In recognition of the Group's efforts, it has garnered more than 300 domestic and international accolades for company performance, corporate governance, product design, concept, innovation and quality.
As a market-driven developer, the Group sees the success of the M Series products in the affordable range and has proven to be on the right track by designing fir-for-purpose quality product options in prime locations with easy access to amenities, connection, and ready infrastructures.
Despite the pandemic, the Group achieved its RM1.6 million sales target set for 2021 under the leadership and foresight of Mah Sing's Founder and Group Managing Director, Tan Sri Dato' Sri Leong Hoy Kum. Tan Sri Dato' Sri Leong Hoy Kum was named "Property Man 2021" by the FIABCI Malaysia Property Awards 2021 for his contributions and achievements in the real estate industry.