Keep in mind that the true objective of Feng Shui is to harness the Chi of the local environment to support us in our goals and desires. It is a science and the practice of determining the quality of a person's life by studying their living environment and seeking to improve this quality by tapping into the natural energies (Chi) in that environment.
Harnessing Chi effectively opens up new opportunities, which you will be able to leverage on for your own benefit. Undoubtedly, everyone wants to improve their finances and make more money, but one must first review and improve his/her overall health and happiness. If you are not in possession of these two elements, there is no point in receiving financial gains anyway.
There are many 'Prosperity' and 'Wealth' Feng Shui items which are believed to improve one's prosperity, fortune and enhance wealth.
Wealth vessel
If placed in a home, a wealth vessel filled with gold coins and jewellery can be a symbol of a successful endeavour. One can expect to see an improvement in their financial health and other capital gains.
Wealth vases
There are numerous container-like objects which represent prosperity and encourages a continuous flow of luck such as vases, pots, bowls and plates. Displaying these items would result in a consistent inflow of good luck for you and your family as well as business windfalls.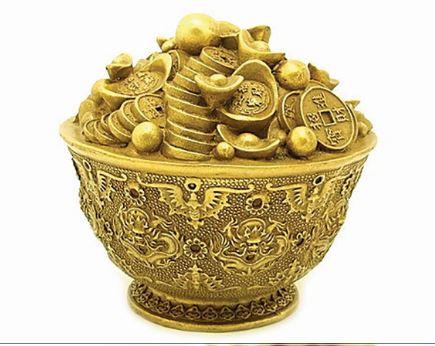 Wealth appealing crystal trees
Crystal trees are unique objects which serve to generate miracle-like good luck for its owner. These bonsai-like trees have trunk manufactured from resin and branches of copper mineral from which dangle crystals leaves will also make a wonderful exhibit.
Business owners who wish to improve product sales and enhance profits should place these trees within their work area or store, particularly in well-frequented places such as office reception desks, lobbies and also beside cash registers. This practice is sure to enhance one's business performance and prosperity.
Wealth god
Employed commonly in Chinese houses, the wealth God or "Chai Sen Yeh" is a prevalent symbol of floating luck and prosperous wealth. There are various celebrations throughout the lunar year which honour and pays tribute to this God to ensure his consistent blessing of prosperity and fortune.
Sign up and stay updated
Get the latest property news, home solution tips, interior design ideas and property guides.
By subscribing, you consent to receive direct marketing from iProperty.com Malaysia Sdn Bhd (iProperty), its group of companies and partners. You also accept iProperty's
Terms of Use
and
Privacy Policy
including its collection, use, disclosure, processing, storage and handling of your personal information.
You're subscribed!
You will receive an email from us soon with some great tips and tricks to help you on your property journey.