Stimulate your senses at the all new Arts & Lights Fairy Tale edition.
14 March, RAWANG – Mah Sing Group Berhad (Mah Sing) is launching its 4th instalment of the highly successful Arts & Lights exhibition in  M Aruna Sales Gallery, Rawang. Themed after classical 'Fairy Tales', the exhibition will be open to public every weekend starting from 17 March –  8 April 2018 from 12pm to 9pm and admission into this sensory journey is completely free. Visitors only need to reserve their tickets at www.artsandlights.com.my
The latest take on the Group's 'Instagram worthy' event aims to entice all five (5) of the human senses – sight, sound, smell, touch and taste – through more than 10 interactive installations. Don't wait a lifetime to find your Prince Charming as visitors will be taken on a magical journey through the Kingdom of Aruna for its Secret Garden concept blends seamlessly with Arts & Lights' latest chapter.
Mah Sing's Group Managing Director Tan Sri Dato' Sri Leong Hoy Kum said, "We are really proud of the reception Arts & Lights has seen since its debut in Icon City, Petaling Jaya back in November 2017. We are excited for the public to come and experience M Aruna's Arts & Lights Fairy Tale edition, as it promises to engage visitors in a full sensory experience. The fact that this exhibition has received over 65,000 registered visitors across Icon City, M Vertica Sales Gallery and M Centura Sales Gallery speaks volumes of the impact Mah Sing is bringing in reinventing activation strategies to further drive brand engagement."
Engage with your senses
M Aruna's Arts & Lights: Fairy Tale Edition adds a twist to an already successful pop-up art and technology exhibition by engaging the 5 human senses in sight, sound, smell, touch and taste in the installations for a more memorable experience.
Mah Sing will also be utilising three (3) of its actual completed units in M Aruna Sales Gallery to ensure visitors are treated to a plethora of installations, with each show unit carrying its own sub-theme. Visitors not only get to enjoy the installations but also experience M Aruna's 2-storey link homes (20ft by 60ft) with a starting indicative price of RM550,000. First 70 buyers can enjoy early bird privileges. Interested buyers can contact 03 9212 8319 or visit www.m-aruna.com.my for more information.
The Underwater Kingdom (House 1), coheres the gentle calmness and serenity of the ocean in 'Ocean Lullaby' with one of the oceans most beautiful creatures, the mermaid, in 'A Siren's Call'.
 House 2 comprises botanically-inspired installations like 'Briar Rose's Room', 'A Secret Garden', 'Flower Potions' and "Smell Me!" will activate your sense of smell to stimulate emotional reactions. Taking advantage of the old adage 'scent is the strongest tie to memory', soothing aroma therapy infusions will be used to evoke the innocence and purity of the classical Fairy Tales. "In The Stars" in House 2 will mesmerise you with beautiful constellations like Orion, Ursa Major (The Big Dipper), Ursa Minor (The Little Dipper), Perseus, Andromeda and Pegasus in the night sky.
Inspired by royalty, Kingdom of M Aruna (House 3) allows guests to step into the life and experience what it feels like to be the princess or prince of their own Fairy Tale. Visualise yourself as the Queen for the day in 'Royalty For A Day' or dine like a King at the 'Be Our Guest' dinner table. Perhaps it is also here where you can finally find out what is at the 'End of the Rainbow'. Embrace your inner child as 'A Sprinkle of Fairy Dust' allows you to lose yourself in sprinkling confetti all around while little ones get to build their own crown with variety of precious stones in 'Little Royalty'.
Description of M Aruna's Arts & Lights: Fairy Tale Installations
House 1 – THE UNDERWATER KINGDOM
Ocean Lullaby
Listen to the ocean lullaby, and let let the soft whispers rock you to a deep slumber. Did You Know? 71% of the Earth is covered in water. Humans have explored less than 5 percent of the ocean. Makes us wonder what magical beings might be lurking in the deep.
A Siren's Call
The song of the siren brings all men to their knees and her beauty is like no other. Did You Know? Sirens or mermaid sightings by sailors, were most likely manatees or dugongs. The sailors whom have been in the sea waters for many months most likely mistook them for beautiful women.
House 2 – LITTLE BIG THINGS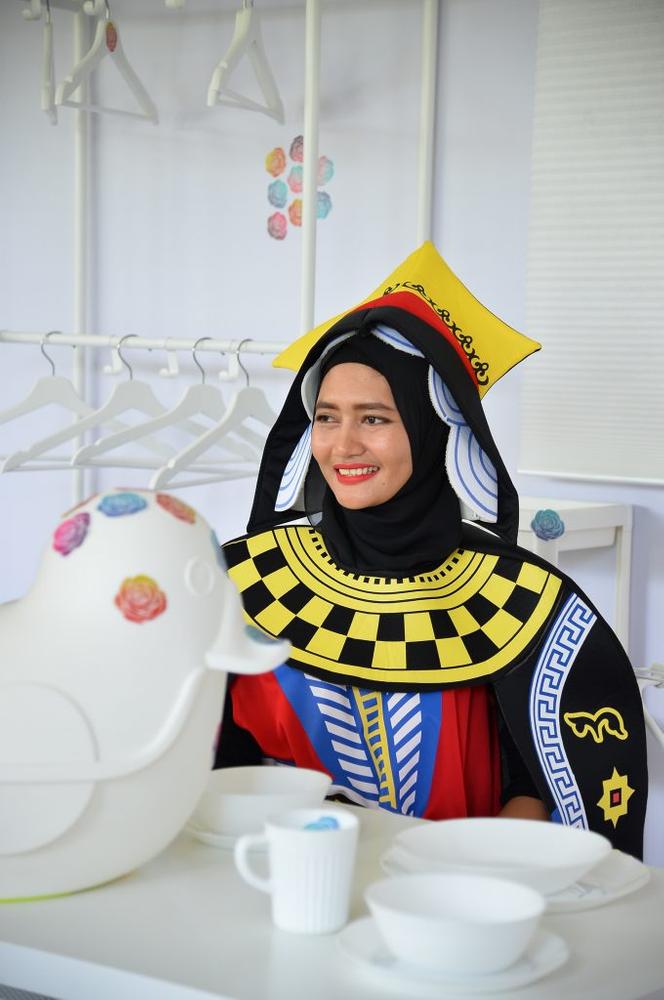 Briar Rose's Room              
After the curse of Briar Rose was lifted, the thorns disappeared, only to be replaced by roses. Till this day, the kingdom dedicates a room to Briar Rose, for her renowned beauty and charm. Help us keep the story of Briar Rose alive by planting a rose for her. Guests can purchase 4 rose stickers for only RM2. Portion of the proceeds will be donated to Mah Sing Foundation.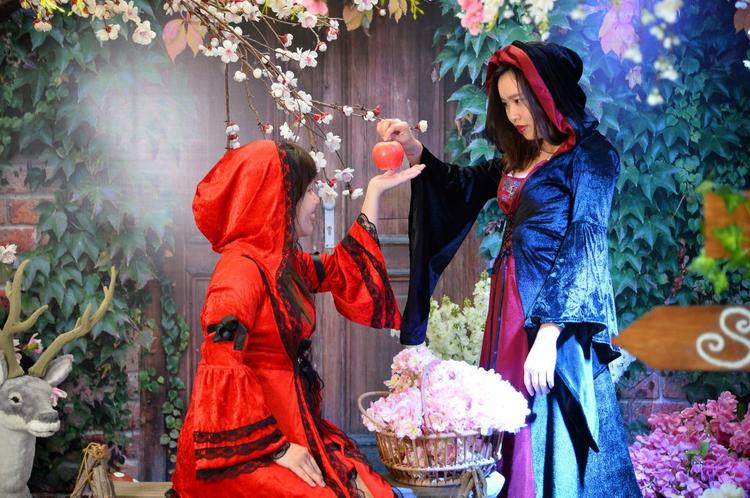 Secret Garden                    
Deep within the Kingdom of Aruna lies a secret only a few know about. A secret garden. No one knows who tends to the garden. It seems to be forever in bloom. There are whispers in Aruna about fairies appearing under the guise of moonlight. Shh…
Flower Potions                     
Once a year, the secret garden blesses the people with a bloom of herbs and flowers, often said to contain mild healing properties.
Smell Me!                              
Alice ate and drank something but she did not smell  anything. These herbs will not make you shrink or grow bigger but they sure smell divine!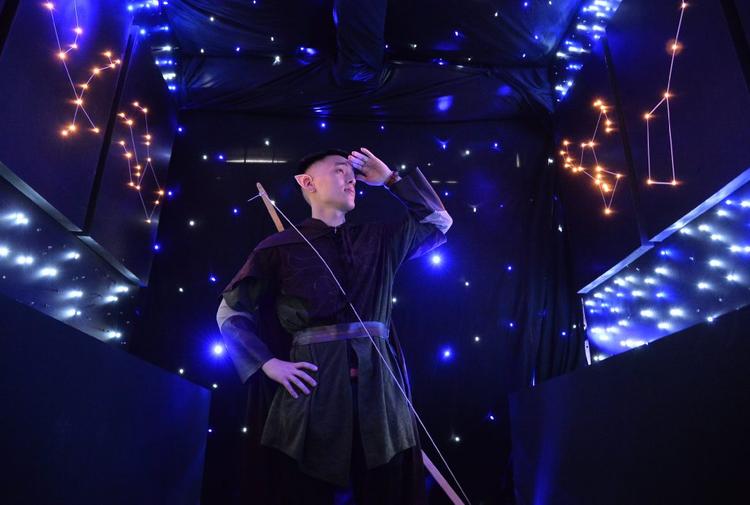 In the Stars                            
Ancient Greeks believed that stars were placed in the night sky by gods to serve as a lesson on proper behaviour. Each constellation contains a story which can be passed down from a generation to the next, just like fairy tales. (Featuring Orion, Ursa Major (The Big Dipper), Ursa Minor (The Little Dipper), Perseus, Andromeda & Pegasus)
House 3 – THE KINGDOM OF M ARUNA
Little Royalty   
Calling all little Princesses and Princes! Build your very own crown and deck it out with an array of precious stones
Royalty For A Day               
You stand before the Queen, first of her name, rightful heir and ruler to the Kingdom of Aruna.
Be Our Guest 
Dine with the Kings and Queens. Try the grey stuff, it's delicious!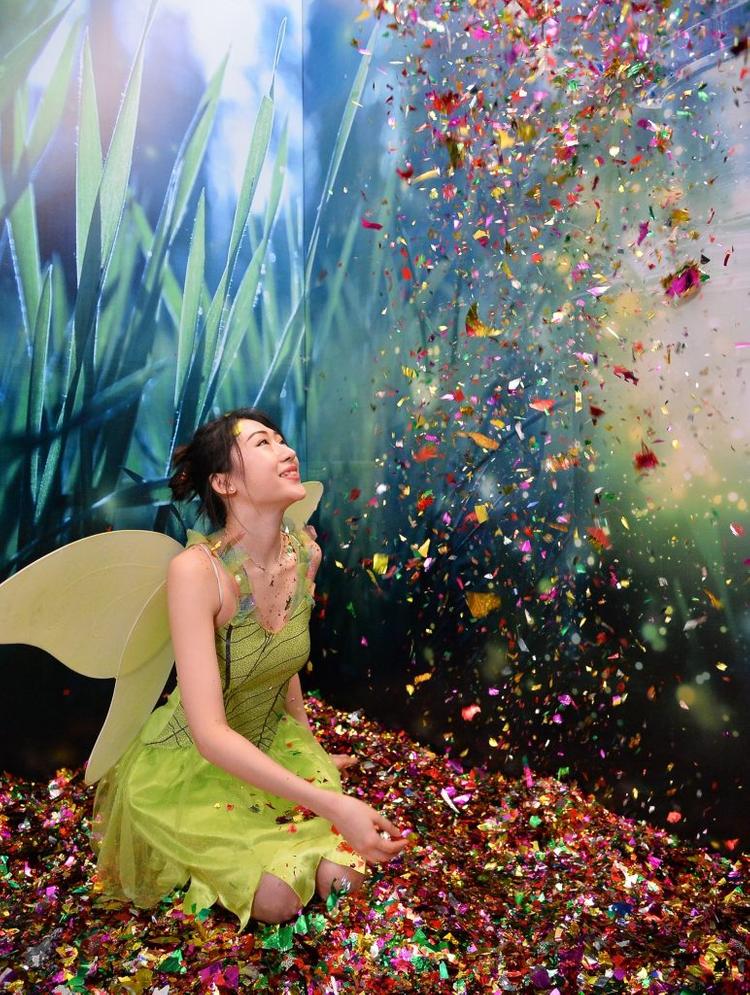 A Sprinkle of Fairy Dust      
All you need in life is a little faith, trust and fairy dust.
End of the Rainbow   
Legend has it, at the end of every rainbow, there lies a pot of gold which belongs to a leprechaun. We have a rainbow here but we are quite unsure of where the leprechaun has disappeared to. Help us keep a lookout for him!
Disclaimer: The information is provided for general information only. iProperty.com Malaysia Sdn Bhd makes no representations or warranties in relation to the information, including but not limited to any representation or warranty as to the fitness for any particular purpose of the information to the fullest extent permitted by law. While every effort has been made to ensure that the information provided in this article is accurate, reliable, and complete as of the time of writing, the information provided in this article should not be relied upon to make any financial, investment, real estate or legal decisions. Additionally, the information should not substitute advice from a trained professional who can take into account your personal facts and circumstances, and we accept no liability if you use the information to form decisions.