These Raya furniture upcycling tips will breathe new life into your home without putting a dent in your wallet.


New clothes, new kitchenware, new hairdo, between these additional expenses and the packets of "duit raya" you'll be giving out, Raya celebrations can cause some serious financial setback. However, there are ways you can give your home a new look without buying anything new at all.
Imran Zainal has been breathing new life into his customers' old furniture since 2016. That was when he started his own furniture upcycling and interior design business, Imran's Ark. He left a career in the corporate sector to pursue his lifelong passion.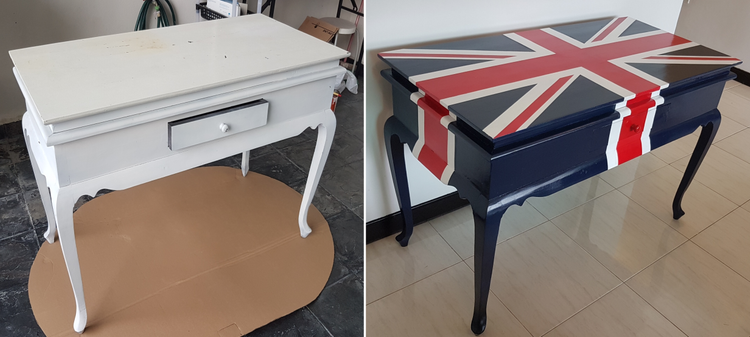 "I found out about furniture upcycling in the UK. People like to do-it-yourself (DIY). It's very popular to do up your old furniture. The idea of taking little pieces of furniture, and then refurbishing, upcycling, and modernising it, is generally accepted in the UK.

"I wondered: how come it's not available in Kuala Lumpur? I started dabbling in upcycling furniture then. I bought second-hand furniture, painted them myself, and they sold," Imran said.
When Imran returned to KL, he purchased a used study desk from an antique shop in Hulu Langat. He upcycled the piece of furniture and successfully sold it to an interested buyer via Facebook. Since then, he has been commissioned by customers to refurbish their living rooms, kitchens, coffee tables, cabinets and other types of furniture.
Every piece is unique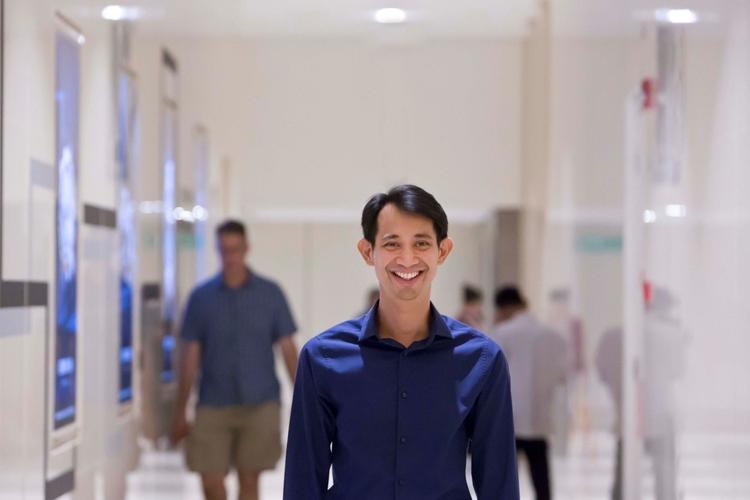 According to Imran, every piece of upcycled furniture is unique and individualised. "When you go to a regular furniture shop, you and I could end up buying the same coffee table, and having the same furniture in our homes. But with upcycling, no two pieces are exactly alike.
"The customers would commission me to design according to the design they want, and the colours that they choose," he explained.
Unlike mass-produced furniture sold in stores, Imran believed that upcycled furniture is more like a piece of art. "People would come by and say: 'Oh wow, that's interesting!' It becomes a conversation piece in your house," Imran added.
Environmentally friendly 
Besides providing furniture with a new lease of life, upcycling is also environmentally friendly, said Imran.
"When a person goes out to buy a new piece of furniture, one tree is cut. When you have 100 customers, more trees are cut.
"So when a customer buys an upcycled furniture, one tree fewer is cut. It's actually good for the environment as well," he explained.
Project preparations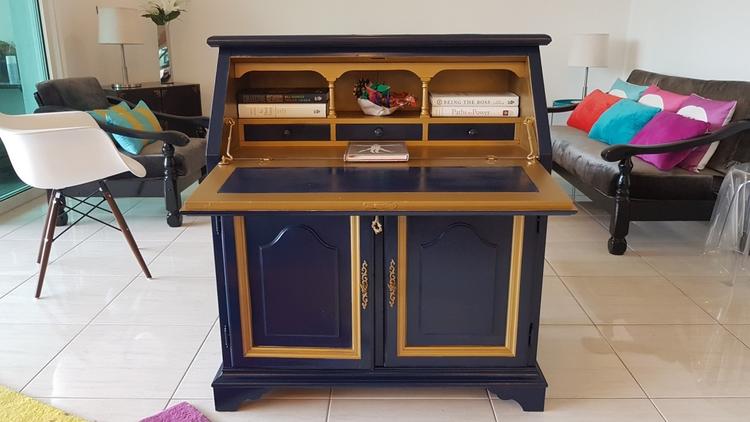 If you are interested in upcycling your own furniture, Imran recommended that you set up your workspace outdoors. Proper ventilation is important as it will help to air out the fumes that come from your painting. Imran himself operates from a small, humble workshop in his garage.
"First thing you need is a work table, which you'll use to mix the paints and lay down your tools. And the sort of tools that you need are screwdrivers, brushes, masking tape, lots of paint, thinner, wiping cloth, mask and googles. Sometimes, you'll be using a putty to fill holes (in your furniture)," said Imran, who also utilises industrial-grade equipment in order to cater to his customers.
He stated that these tools and materials are available at any local hardware store. As for protecting the floors and walls from paint, Imran mentioned that he would cover up his workshop floors and walls with used carton box material.
"I'm always on the lookout for people who buy TVs or fridges. They come in boxes, right? I'll split those carton boxes and spread them on the floor," he added.
Art of painting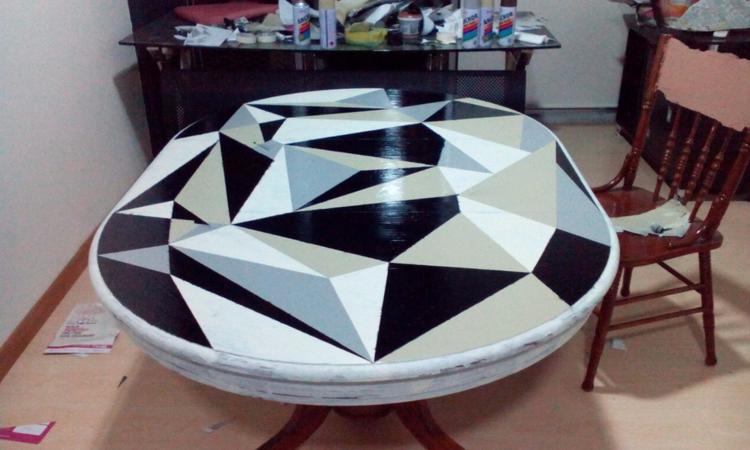 Imran also suggested that you dilute the paint with thinner before starting work.
"If you don't mix it with thinner, the paint is too thick. So if you apply paint that's too thick, the upper layer will dry, but you'll find that below it, it's not dry yet. And that lower part would take a long time to dry," he advised.
A coat of paint on a small coffee table would typically require six hours for it to dry, Imran added.
Weathering the elements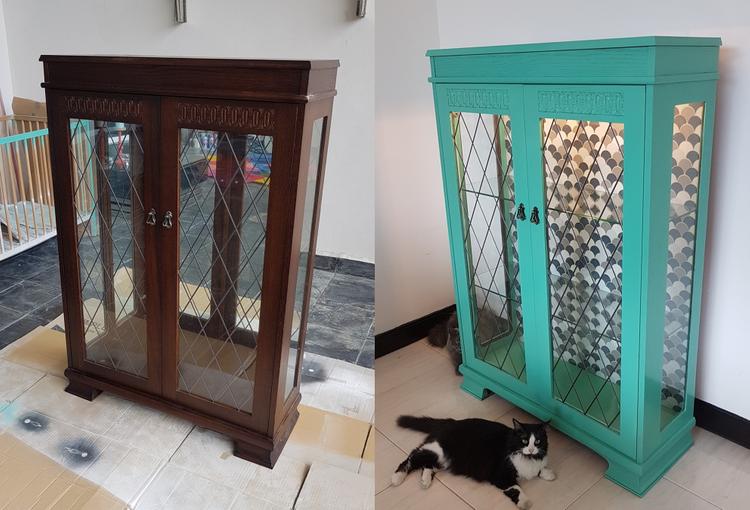 Imran also mentioned that he has to adjust his working hours according to the weather.
"If I were to start my work at noon when the sun is at its zenith and it's too hot, then the paint will crackle. If I paint when it's about to rain and there's humidity, the paint will bubble. So it's a matter of getting the timing right," he said.
When it rains, he would also stop work and cover up the furniture.
"There's always the fear that the rainwater will splash onto the furniture, so I have to cover the furniture," Imran added.
Patience required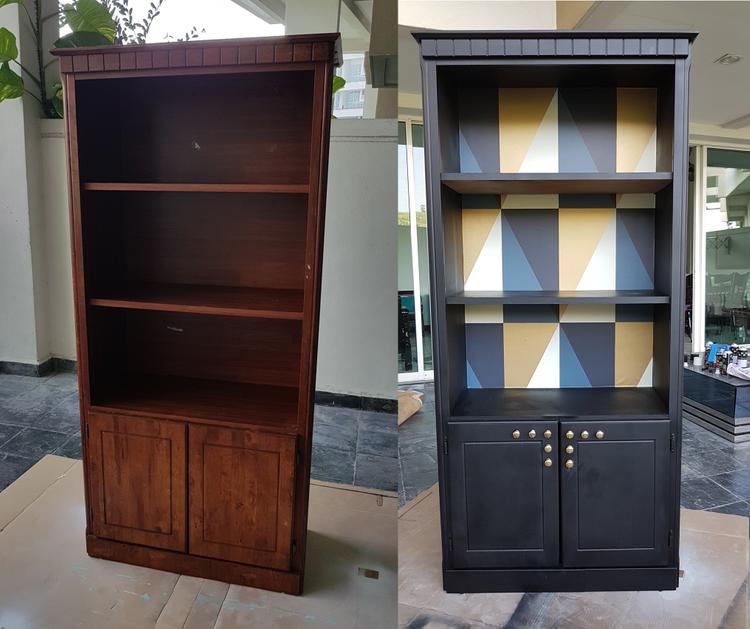 According to Imran, most people are likely to rush during the painting session of their furniture upcycling projects.
"People tend to rush into this and then the first layer of paint is not dry. They are so excited. They want to get to the end result quickly and share the photos on Instagram and Facebook with their friends. Then they apply the second layer, which adds more moisture to the surface of the furniture and the paint doesn't dry properly," he said.
Imran stated that furniture upcycling is a field that requires a lot of patience.
"This is something beyond your control. Allow paint to dry in its on time. If it's nice and hot out there, it takes a few hours for the paint to dry. If it's a rainy day, it'll take longer. So you can't rush," he pointed out.
Express yourself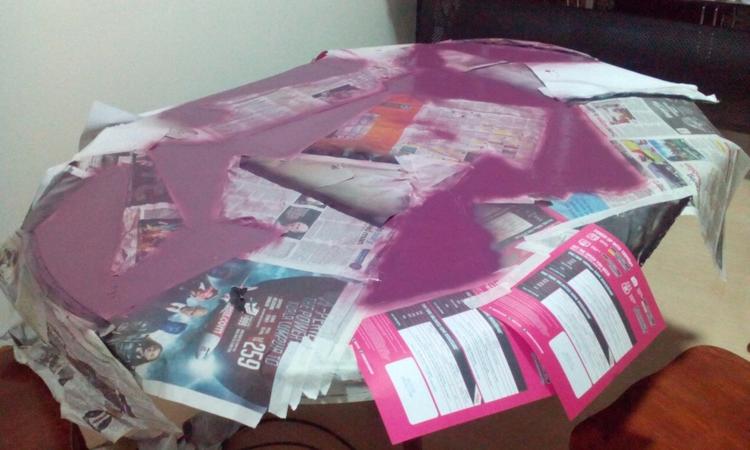 Imran has another piece of advice for furniture upcycling hobbyists: "If it's your hobby, you do it out of passion, right? Whatever time, energy and effort that you put into that piece of furniture, make it something that mirrors your soul, that describes who you are, that is a reflection of your character and personality."
This form of self-expression is evident in Imran's upcycled furniture designs, especially his famed extendable dining table. He may have refurbished large spaces such as living rooms and kitchens, but the most challenging project he has ever worked on was this particular piece of furniture.
"I worked on an extendable dining table, and it was a world's first in the way it was designed," Imran added.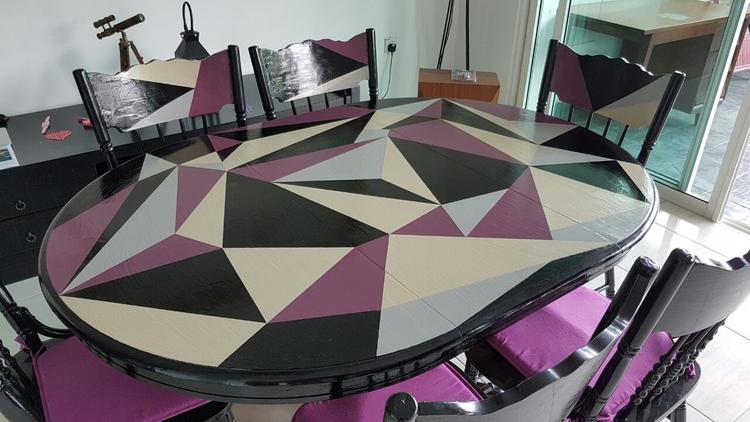 The extendable dining table consisted of three foldable panels when expanded. Using measuring instruments like the protractor, Imran has created a geometric pattern on its surface that flows symmetrically, even when the table is collapsed.
"I decided that I need to make a statement piece dining table where I use all these irregular lines, and somehow they can match," he revealed with a smile.
Imran is keen to take on even more challenging projects in the future. Feel free to contact him and check out his latest upcycled furniture designs on Facebook and Instagram.
Written by Habitat | Edited by Mira Soyza
Disclaimer: The information is provided for general information only. iProperty.com Malaysia Sdn Bhd makes no representations or warranties in relation to the information, including but not limited to any representation or warranty as to the fitness for any particular purpose of the information to the fullest extent permitted by law. While every effort has been made to ensure that the information provided in this article is accurate, reliable, and complete as of the time of writing, the information provided in this article should not be relied upon to make any financial, investment, real estate or legal decisions. Additionally, the information should not substitute advice from a trained professional who can take into account your personal facts and circumstances, and we accept no liability if you use the information to form decisions.