This article was originally published on 19th June 2018 and has been updated for accuracy and comprehensiveness. 
There's still hope for the M40 group who have yet to own a house, to get a foothold at one of these Klang Valley areas.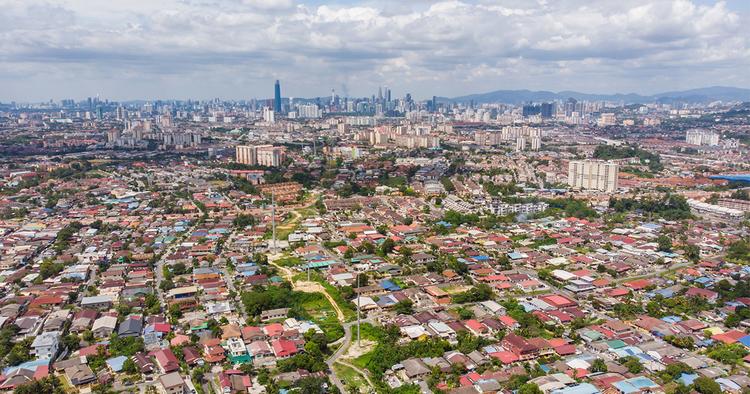 The middle class is often one of the leading indicators in modern economies. Their financial health could spur a country's growth. On the other hand, if they are struggling, the economy may follow suit. According to the Department of Statistics Malaysia, the Middle 40% (M40) income group had a median monthly household income of RM6,275 in 2016, which is barely enough to get by nowadays, especially for families in the Klang Valley.
The higher cost of living, falling purchasing power, and skyrocketing property prices in Klang Valley in recent years have diminished the dreams of affordable homeownership for many in the M40 group. However, if they are financially prudent and keep their expectations realistic, they can still purchase homes within their budgets, especially in the secondary market.
The following are some areas in Klang Valley that may offer some viable options for the M40s, based on several basic estimates. 
The calculations assume a 10% down payment and a 35-year loan tenure. We also utilised a home loan with a 4.5% interest. This rate was used as the average figure from current rates of home loan products available in the market at the moment.
M40's median monthly income: RM6,275

A monthly instalment not exceeding RM1,882.50
A good rule of thumb is that a housing loan or mortgage should not exceed 30% of your household income. If your monthly instalment is RM1,883, your total household income must be at least RM6,275. Also, you need to consider other home-related expenses such as the minimum 10% downpayment, legal fees, renovations, etc.
Estimated home price with 90% financing: RM440,000
These areas may provide middle-income earners, M40  with a practical start to home buying before they proceed to more expensive purchases as they climb the income ladder. Here are the seven areas in Klang Valley affordable for M40 groups.
This is based on the review period between January 2019 to December 2019 and information from the Valuation and Property Services department (JPPH) that has been compiled by iProperty.com.my's big data solution iPropertyIQ.com. The properties are ranked in ascending order and presented based on the number of transactions.
READ: Top 10 property developers in Malaysia
7. Bandar Tasik Puteri, Rawang
The number of transactions: 59
Bandar Tasik Puteri (BTP) is one of the largest townships in the Northern Klang Valley. With community living as the main focus, this township promises a range of amenities and infrastructures. There's Puteri Central Park for recreational activities while golfers may spend some good quality time at the 27-hole Tasik Puteri Golf & Country Club.
On top f that, Bandar Tasik Puteri enjoys direct connectivity to LATAR Highway which cuts down the travelling time to KL City Centre. Currently, there are more than 12,000 residential and commercial units within the township and there will be more new developments soon such as SoHo, offices, street shops, a shopping mall, educational institutions, and healthcare facilities.
Type: Terrace house
Tenure: Leasehold
Built-up size: from 867 sq ft/ 3 – 4 bedrooms
Median price: RM320,000
Median price PSF: RM249
Monthly instalment: RM1,363
6. Bandar Putera 2, Klang
The number of transactions: 60
Bandar Putera 2 is located in the southern part of Klang. This township comprises commercial and residential developments, and it is also surrounded by greeneries, older neighbourhoods, and agriculture reserve. Nevertheless, the public transport service isn't abundant in this area. The residents may travel via KESAS to get to KL City Centre and other parts of the Klang Valley.
Type: Terrace house
Tenure: Leasehold
Built-up size: 1,300 sq ft – 1,400 sq ft/ 3 bedrooms
Median price (RM): 344,400
Median price PSF (RM): 417
Monthly instalment (RM): 1,467
5. Mentari Court, Bandar Sunway 
The number of transactions: 61
Mentari Court is a high-density apartment located at Bandar Sunway. This apartment has high demand from foreign students due to its proximity to higher educational institutions like Monash University and Sunway University College. There a few choices for public transportation from Setia Jaya KTM station, Sunway – Setia Jaya tram station, and Mentari tram station. Also, this apartment is easily accessible via the NPE, Federal Highway, and LDP. Not just that, shopping and getting entertainment is a breeze for the residents as Sunway Pyramid and Sunway Lagoon are within 10 minutes' drive. Mentari Court provides standard in-house facilities such as BBQ area, gymnasium, swimming pool, playground, etc.
Type: Apartment
Tenure: Leasehold
Built-up size: 771 sq ft/ 3 bedrooms
Median price: RM300,000
Median price PSF: RM393
Monthly instalment: RM1,278
4. Palm Spring, Kota Damansara 
The number of transactions: 63
Palm Spring is a highrise condominium comprising of 2,180 residential units. Located along Jalan PJU 3/23, it is one of the earliest condominiums in Kota Damansara.  Palm Spring is situated in a prime location as access major roads and highways are convenient, namely Persiaran Surian and NKVE. Not just that, access to public transportation is seamless as the MRT Surian station is within 750m whereas the Strand Mall and Sunway Giza are within 1.5km.
Also, residents enjoy in-house facilities like a BBQ area, sauna, nursery, swimming pool, playground, salon, Jacuzzi, tennis and squash court as well as a clubhouse.  If you are looking out for outdoor or recreational activities, Central Park Bandar Utama is within a 9-minute drive away. There are reflexology pathway, jogging, and walking tracks, and it's pet-friendly too!
Type: Condominium
Tenure: Leasehold
Built-up size: 915 sq ft – 1,259 sq ft
Median price: RM380,000
Median price PSF: RM357
Monthly instalment: RM1,619
3. Taman Sri Gombak, Batu Caves
The number of transactions: 76
This mature neighbourhood of Taman Sri Gombak comprises of older and new residential developments. It is also neighbouring other established neighbourhoods and townships such as Greenwood and Gombak Utara area. This area is busy due to its proximity to the MRR2, DUKE and Jalan Gombak. Despite traffic congestion, amenities are within reach in Taman Sri Gombak.  There are public and international schools, kindergartens, hypermarkets, convenience stores, banks, and an endless choice of eateries. Also, there are frequent bus services or residents can opt for commuter services from the KTM Batu Caves station (6 minutes' drive).
Type: Terrace house
Tenure: Freehold
Built-up size: From 770 sq ft/ 3 bedrooms
Median price: RM420,000
Median price PSF: RM442
Monthly instalment: RM1,789
2. Taman Sri Muda, Shah Alam
The number of transactions: 88
Taman Sri Muda is located in Section 25, Shah Alam. Amenities within this neighbourhood are within a 5-minute drive away. There are hypermarkets, schools, petrol stations, banks, convenience stores, and local eateries. Accessibility is convenient as Kemuning- Shah Alam Expressway (LKSA) is readily available. It is linked to LEKAS and other main roads.
Type: Terrace house
Tenure: Freehold
Built-up size: from 800 sq ft/ 3 bedrooms
Median price: RM320,000
Median price PSF: RM336
Monthly instalment: RM1,363
1. Taman Sentosa, Klang
The number of transactions: 178
Taman Sentosa comprises of many low-cost and middle-cost residential properties, mainly flats and terrace houses. This neighbourhood is located just a short distance away from an array of facilities such as fast-food restaurants, convenience stores, healthcare facilities, GM Klang Mall, playground, and public parks. In terms of connectivity, Taman Sentosa has direct access to KESAS, LKSA, and Jalan Langat. Also, there are free Smart Selangorku bus services. Nevertheless, there's no train connectivity within this area. The closest train station is KTM Bukit Badak.
Type: Terrace house
Tenure: Freehold
Built-up size: from 700 sq ft/ 3 bedrooms
Median price: RM337,500
Median price PSF: RM438
Monthly instalment: RM1,438
ALSO READ: 5 things that have transformed Ara Damansara into a buzzing place to live in
Note:
Analytics is based on the data available at the date of publication and may be subject to revision as and when more data becomes available.
Please note that the calculations above are just a guideline based on estimations. Variables such as monthly expenses, interest rates, loan eligibility, and the home price will differ from buyer to buyer.
Property locations are also subject to buyers' preferences and requirements. Our recommendations might not be suitable for everyone. Ultimately, it is up to the buyers to evaluate and decide on a case-to-case basis.
Edited by Mira Soyza