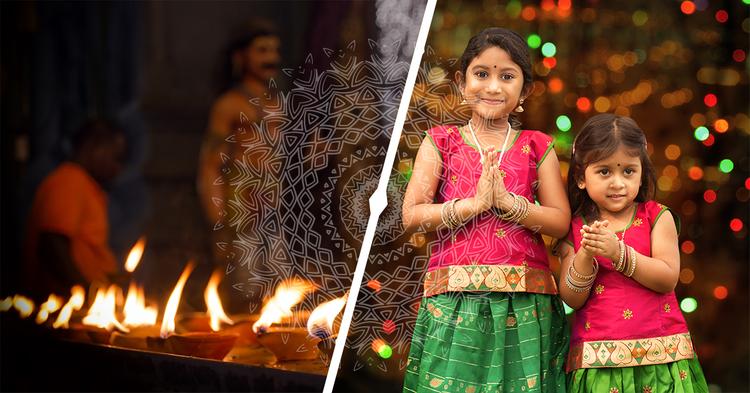 Whether you're celebrating the Festival of Lights or visiting one (or more) open houses this Deepavali, learn the 'Why' behind certain traditions.
Have you ever wondered why we light lamps on Diwali or Deepavali? While the winning reason is that because amma said so, there's more to it! Delve with us into the myths and legends behind these traditional practices:
1. Why light diyas in your house?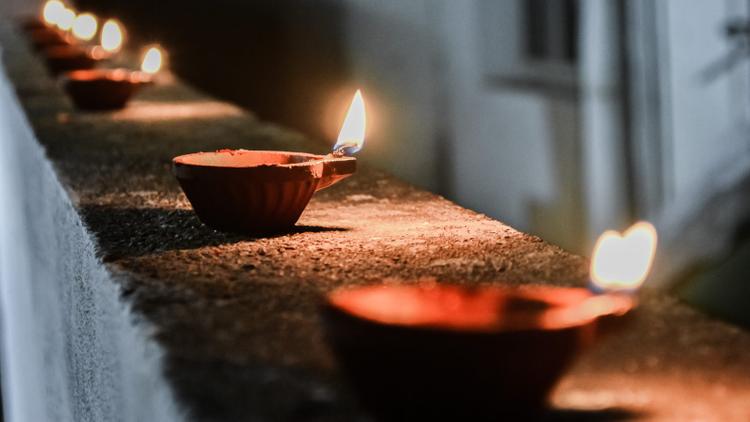 Diya, deepa, diwa – these are all words that translate to 'lamp' or 'light'. It is widely known that Indians across the world light up rows of lamps during the five days of Deepavali to signify the triumph of good over evil. This old-age ritual's significance was borne from various stories and legends. In Malaysia, many of our Southern Indian friends celebrate Deepavali as the day the evil Narakasura was slain by Lord Krishna.
Here are two other stories which commemorate the lighting of diyas:
"Ramayana", one the great Hindu epics, tells the tale of Lord Rama who was exiled from his home, Ayodhya, upon the ploys of one of his father's many wives who wanted her own son to be King. Having left his birth land with his brother Lakshman, Rama married the beautiful Princess Sita. However, catastrophe followed Rama; the demon king, Ravanna who was enthralled by Sita's beauty abducted her for himself!
A great battle ensued but Ravanna was finally defeated in the end.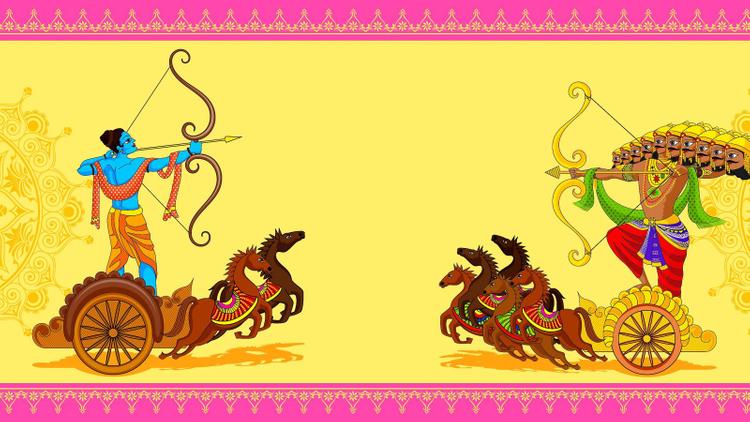 Now here's the story behind the lamps, folks: Diyas were lit by the people of Ayodhya to welcome back their true King and Queen and to help guide Lord Rama, Sita and Lakshman in finding their way back home. Either way, the lights represents good overcoming evil. The tradition was born from the idea of keeping every corner of one's home brightly lit so that darkness cannot enter.
The other story involves defying death and the determination that comes from love. 
Long ago it was predicted that a young King would die on his fourth day of marriage. His newlywed wife, however, would not accept this! So on that fateful night, she collected all the precious metals in their possession and placed it in a heap outside the King's room, along with lit lamps. Lord Yama, God of Death, visited in the form of a snake but was entranced by the bling-bling as well as the crafty Queen's distracting singing and storytelling. Thus, he missed the predestined chance to steal the King's life.
Hence the reason why some people light diyas to keep death from stealing a loved one.  Chilling, but beautiful nonetheless. This story also sheds some light (see what I did there?) on why Indian households have many precious metal items like gold, silver, brass and copper made into jewellery, plates and other homeware.
2. Why the colourful sand/rice/flowers (kolam) at the entrance of a home?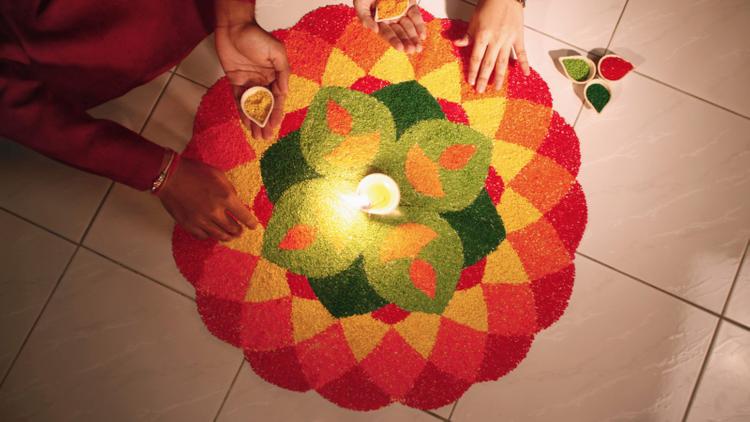 Rangoli, Kolam or floor painting is a Deepavali tradition that all Malaysians are familiar with, it's a creative tradition that's even been adopted commercially. But what is the reason behind it? Aside from being a great family and friends bonding session, these artfully vivid, geometric designs are meant to signify good luck and for inviting Goddess Lakshmi, who is the Hindu Goddess of wealth, into one's home. Lakshmi who is said to have been incarnated from the depths of a bottomless ocean on Deepavali day, is believed to only enter clean and decorated homes (So that's why amma always made me sweep the floor!).
Over the years, these simple designs have evolved to show both creativity and a love for the old stories, with designs taking on various shapes and forms beyond simple geometric lotuses.
Read more: Deepavali is 5 days long — here's what happens each day
3. Why do Indians watch out for cats, owls or lizards on Deepavali night?
Deepavali is very much linked to Goddess Lakshmi, therefore, many Indians perform the Lakshmi Puja – a special prayer to invite her into their homes. It is said that the Goddess takes on many forms… sometimes, a white cat.
If you see a lizard, it means that she has appeared. And the owl is said to be her steed so if you hear a "who, who" nearby, well, you don't have to wonder who has arrived! These myths are harder to believe for some, but they're fun and make for great conversation, especially if one of these auspicious creatures are actually spotted on the day itself.
4. Why draw footprints in the direction of the door or some rooms?
Have you noticed footprints in the homes of your Indian friends when visiting on Deepavali? Sometimes, they're right in the middle of the Kolam design.
Other times, they lead in a certain direction, or to a certain door…
These sripadas, padukas or imprints of the Goddess Lakshmi's feet are often drawn in white rice paste and are supposed to lead the Goddess to either places of worship in one's home or where one keeps their finances (way back when, they were even drawn on the lids of coin boxes). The auspicious footprints are there to welcome the Goddess in the hopes of her bestowing wealth, wisdom and good fortune on the entire home and family.
And now, here are 5 etiquette tips if you are visiting an open house:
1. Say your wishes
To wish your friends an auspicious day, wish them 'Shubh Diwali' or 'Shubh Deepavali'. You can hold your palms together, in front of your heart when you this – it means you're saying this "from my heart/soul to yours".
2. Time matters
Always check with the host on what time is okay for you to arrive. This is important, as different families will have different schedules and rituals to perform and different guests arriving at different times!
3. Bring a treat (or two)
 Gifts aren't compulsory, but what you could bring are sweets! Many Indian shops will be selling traditional yummies during this time and you can never go wrong with something sweet.
Flowers are great too, again, the more colourful the better.
4. Wear colourful clothes
Wear colourful, bright clothes! And don't be shy to go in a traditional ensemble. Get yourself a kurta or a saree or a choli – the choices (and designs!) are endless and it'll definitely bring a smile to your host's face.
5. Don't follow the footprints
This probably goes without saying but don't follow the footprints, they are not meant for you!
In all seriousness though, being part of a multiracial, multicultural country is a colourful thing – one we should embrace without forgetting to respect each others' beliefs and traditions. Remember, if you don't know something, it's always okay to ask! Whether you're a host or a guest, those around us, especially our elders, are always ready to share, so don't be shy.
Edited by Reena Kaur Bhatt
Disclaimer: The information is provided for general information only. iProperty.com Malaysia Sdn Bhd makes no representations or warranties in relation to the information, including but not limited to any representation or warranty as to the fitness for any particular purpose of the information to the fullest extent permitted by law. While every effort has been made to ensure that the information provided in this article is accurate, reliable, and complete as of the time of writing, the information provided in this article should not be relied upon to make any financial, investment, real estate or legal decisions. Additionally, the information should not substitute advice from a trained professional who can take into account your personal facts and circumstances, and we accept no liability if you use the information to form decisions.