Iskandar – Speeding Towards a Mega Region?
Iskandar – Speeding Towards a Mega Region?
A vision four years ago is now taking shape and will potentially transform Iskandar into a dazzling metropolis two to eight years from now
Posted Date:
Oct 15, 2010
By: iProperty.com
Rail Catalyst
Imagine taking the high-speed train from KL and arriving in Singapore within two hours. You could be working in Singapore but staying in KL and paying KL prices. What might be considered a hugely improbable scenario a few years ago may indeed turn out to be a reality in eight years' time.
If this materializes, it could well spell an increasingly 'borderless' world between the two neighbouring countries. It would spur economic growth along the route where the train passes through resulting in a growth corridor stretching from Singapore to Kuala Lumpur.
"It will be one Mega Region that will bring serious competition to other global mega regions [such as Hong Kong – Shenzhen-Guangzhou]," predicts well-known property consultant Ho Chin Soon.
Elaborating further, Ho said, "How KL and Singapore, with the help of Iskandar Malaysia, come together to work for common objectives and goals of both countries in the long run remains to be seen. I believe Iskandar Malaysia will be that catalyst for the rise of a Mega Region to compete in the global arena."
Brian Koh, executive director of DTZ Nawawi Tie Leung Property Consultants Sdn Bhd agrees. "The train will expand Singapore 'hinterland' beyond Johor and if cross- border immigration is eased, and security, actual and perceived is improved, and political goodwill persists, then there will be a strong spill-over up to KL."
Boost for KL & Iskandar
In a recent report, CIMB Research echoed the same sentiments stating that the High-Speed Rail project could boost property prices in Kuala Lumpur significantly, as values are far behind Singapore's and travelling time between the two cities could be reduced to 2.4 hours.
"The rail project will also benefit property prices in Iskandar Malaysia as the proposed train will stop in Johor Baru before proceeding to Singapore." The research house revealed that the rail project already has a "partial or near commitment from a named investor" as disclosed in the ETP (Economic Transformation Programme) unveiled recently. The ETP has identified Johor Bahru as a geographic location that is a driver of economic activity.
Connection Deepens
The high speed rail is just one of several ambitious plans in the pipeline to leverage on each country's resources. The planned rapid transit system (RTS) connecting Johor Bahru and Singapore (possibly through an undersea tunnel) and the much-hyped 500-acre Wellness Township to be jointly developed by both governments are strong signals that Singapore's presence in Iskandar is well-entrenched and fast-growing.
The recent historic land swap deal where Malaysia cedes its KTMB land in Woodlands, Singapore, in exchange for prime pieces of land in central Singapore to be developed jointly by both governments, is yet the strongest signal of more co-operations to come.
Seizing the Opportunities
A growing population is one of the keys drivers of the Mega Region. With Greater KL's population set to increase from 7 mil currently to 10 mil, while Singapore targets 6.5 mil from its current 5 mil (one third are foreigners), there is no shortage of human resources. In fact, recent advertisements for vacancies in Iskandar netted about 700 registrants, mostly interested in employment opportunities at Legoland Malaysia, Asia's first Legoland theme park located in Medini.
Such opportunities are not lost on Malaysian developers. Established ones from the Klang Valley such as Mah Sing, SP Setia and IJM have all set foot in Iskandar. More are expected to follow.
According to CIMB Research, developers with a sizeable land bank in Johor include SP Setia, Mah Sing Bhd, UM Land Bhd, KSL Holdings Bhd, Bandar Raya Developments Bhd, Mulpha International Bhd, IJM Land, Tebrau Teguh Bhd, Plenitude Bhd and Daiman Development Bhd.
UEM Land
The biggest beneficiary however will be UEM Land Holdings Bhd, due to its vast and strategic landbank in Iskandar. "Arguably, UEM Land's 10,000-acre land bank in Nusajaya is at the heart of Iskandar and the proposed MRT from Singapore will also pass through its project," the report says.
Another research house Credit Suisse Group AG in fact reports that UEM Land aims to grow revenue five-fold to RM2 billion in five years, out of which its Bandar Nusajaya project is expected to contribute at least 60 per cent of the sales in five years. UEM Land is also in talks with several Singaporean government-linked companies on property projects, the report adds.
Nusajaya – Key Driver
The 9,308 ha Nusajaya is the key driver of Iskandar Malaysia. It comprises eight catalyst developments — Kota Iskandar (Johor's new administrative centre), Southern Industrial and Logistic Clusters, Puteri Harbour Waterfront Development, EduCity, Medical City, International Destination Resort and Nusajaya Residences. Work on infrastructure and several development projects in Nusajaya are on schedule and are expected to be completed in the next two to five years.
They include the RM1.4bil Coastal Highway linking Johor Baru city centre to Nusajaya, Legoland Theme Park, Indoor Theme Park @ Puteri Harbour, Marlborough College, Newcastle University Medical Faculty, and Pinewood Studios.
Investments Up
Located in the southern most part of Johor, spanning 2,217 sq km (three times the size of Singapore), Iskandar has grand plans to transform into an international metropolis within 25 years. To realize this, the Iskandar Regional Development Authority (IRDA) was formed to drive investments into Iskandar Malaysia. It works closely with Iskandar Investment Berhad (IIB), the catalytic developer of Iskandar Malaysia.
Recent figures released by the IRDA showed Iskandar received RM62.32bil cumulative investment up to June this year, surpassing the 2010 target of RM47 bil.
It used to be the case that most of the foreign investments were from the Middle East. However, as result of the Dubai financial meltdown a year ago, fewer have committed themselves and some may even have pulled out. What potentially could be a catastrophic event for Iskandar has in fact turned out to be a blessing in disguise. More attention is now diverted to Singapore. Iskandar, as it turns out, can't flourish without Singaporeans' involvement, commented a political observer.
Tipping Point
IIB is looking at 2012 as the tipping point for Iskandar Malaysia. "By that time, projects such as Legoland, Indoor Theme Park @ Puteri Harbour, Newcastle University Medical Malaysia and Marlborough College @ EduCity, Premium Outlet, CyberCity and Danga Bay Waterfront Development will be completed and operational, says IIB CEO Puan Arlida Ariff. Also operational then would be the 15 km 6-lane coastal highway to connect Nusajaya to JB's CBD. Parts of the 500-acre Wellness Township in Medini are also expected to be completed at that time.

Ho Chin Soon agrees but added his own expanded version. The property consultant, who has authored a book on Iskandar entitled "Iskandar Malaysia – A Story of Singapore and Kuala Lumpur" foresees 3 Tipping points:
2010 – to move in early to invest as Singapore is coming in. Smaller industrialists and some Singaporeans have started to invest in lands for factories

2012 – when the catalytic projects and the Coastal Highway are completed and the tipping point is deemed to be reached
2018 – when the proposed LRT connection from Tanjung Puteri to Woodlands MRT starts operation. JB CBD will benefit the most.
Mindset Change
Having said that, not all is smooth-sailing. The mindsets of both Malaysians and Singaporeans are the greatest impediments. "Generally, Singaporeans are skeptical and they need more signals from their government before they come to Iskandar in a big way. However the recent 500
acres Wellness Township is a good start," says Ho. Malaysians, especially local Johoreans also need to accept Singapore as a serious investor in Iskandar. Ho added that political will and the efficiency of the civil service (red tape) are two other important factors that could either drive or hinder development.
The other factor that could affect the tipping point is the coming Malaysian general election due by 2012. If these are sorted out and when the rail and MRT projects materialize by 2018, Iskandar, located mid-point, would transform into a bustling city. Malaysia's first economic growth centre, conceived on 4th Nov 2006, would then have realized its vision of being an international metropolis.

Development in IM is focused on five flagship zones as follows:
Flagship A: Johor Bahru City
Landmarks: Danga Bay waterfront development, Johor Bahru City Centre, Heritage Precinct
Key players: Danga Bay Holdings Sdn Bhd, Crescendo Corporation Bhd, Johor Land Bhd, Mah Sing Group Bhd, Pelangi Bhd
Flagship B: Nusajaya and Medini
Landmarks: Kota Iskandar, Puteri Harbour, EduCity, Afiat Healthpark, Legoland Malaysia, Southern Industrial and Logistics Centres (SILC), Nusajaya Residences, Medini Iskandar Malaysia

Key players: UEM Land Bhd, Iskandar Investment Berhad (IIB), Mulpha International Bhd, KSL Holdings Bhd, S P Setia Bhd, Middle Eastern Consortium
Flagship C: Western Gate Development
Landmarks: Port of Tanjung Pelepas, Second Link to Singapore, Ramsar Heritage Park, Power Plant, Petroleum Hub, Maritime Centre

Key players: Port of Tanjung Pelepas, Tanjung Bin Power Plant, Tanjung Bin International Maritime Centre, KIC Oil and Gas Group
Flagship D: Eastern Gate Development
Landmarks: Tanjung Langsat Industrial Complex, Tanjung Langsat Port, Pasir Gudang Industrial Park, Pasir Gudang Circuit, Johor Port, Asia Pacific Trade & Expo City (APTEC)
Key players: Johor Port Bhd, Tanjung Langsat Port Sdn Bhd, TPM Technopark Sdn Bhd, Malaysia Pacific Corporation Bhd
Flagship E: Senai – Skudai
Landmarks: Senai International Airport, Senai Free Zone, Senai Logistics City, MSC Malaysia Cyberport, Johor Premium Outlet

Key players: Senai Airport Terminal Services Sdn Bhd, IOI Properties, Genting Property Sdn Bhd, UM Land Bhd, MSC Cyberport Sdn Bhd, Lee Rubber Group

Excerpts from "Iskandar Malaysia – A Story of Singapore and Kuala Lumpur"
"The last 2 to 3 decades of rapid growth for Johor Bahru can be attributed to the growth of Singapore. On the other hand, when Singapore went into recession, the property market of Johor Bahru went into a tail-spin and has just about to recover."
"Many do not know that the project and land to be known as Tanjung Puteri has yet to be reclaimed from the Straits of Johor and that the beneficial owner is Iskandar Investment Bhd."
"Shinkansen and Eurostar's average speed is about 250 – 275 kph. Chinese trains now have average speeds of 350km per hour, making it a cool 1 hour 15 mins from KL to JB."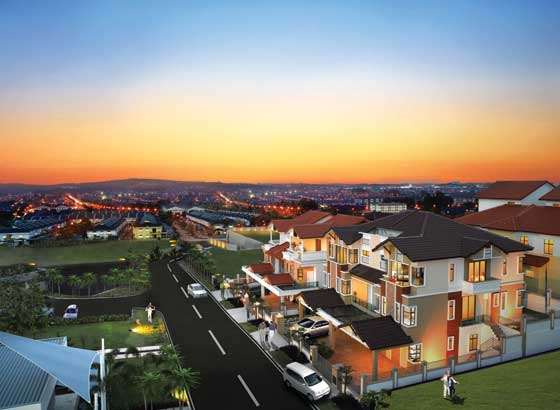 Upcoming and Ongoing Developments

Looking for a property investment or home to stay in Johor? iProperty.com rounds up some of the ongoing and upcoming Johor properties that might just be what you have been looking for

East Ledang by UEM Land Bhd. From RM1,933,888 - RM2,357,888
East Ledang (Resort Bungalows)
Nusajaya Johor,
Mont' Callista by Bunga Development (PJ Development)
Taman Pulai Bayu, Skudai, Johor
A total of 192 semi-detached units are offered in the 32-acre development. Priced at between RM723,000-RM888,000 per unit, the 3-storey homes have built-ups ranging from 3298-3837 sq ft.
1 Medini by Iskandar Investment Berhad & WCT Land Medini Iskandar, Nusajaya, Johor
The development, which is scheduled to be fully completed by 2015, will consist of 1,332 units of condominium and 68,800 sq ft of commercial area for local retail businesses.
Senibong Cove (Waterfront Concept) by Front Concept & Walker Land Senibong Cove, (off Permas Jaya) Johor Bahru
Senibong Cove is a master-planned integrated residential, tourism and marina estate created on 200 acres of land that stretches from the new East Coast Highway to the Straits of Johor. The RM1.7 bil phased development will include new residential neighbourhoods
Danga Island Private Villas by Danga Bay
Poised to be an exclusive retreat, a dedicated island off Danga Bay offers 152 units of villas with outstanding security features and superb amenities and services. Priced at min RM4 mil each.
Setia Tropika (SP Setia) by SP Setia
2,500 units of occupied residences and commercial lots in the 740-acre township with units still available. Setia Tropika also developed the CBD (Central Business District), an integrated flagship commercial hub of the township

Setia Tropika, Kempas, Johor Bahru
Bandar Putra Kulai by IOI Properties
Currently, there are 4 ongoing projects comprising of single-storey terrace houses, double-storey terrace houses, and 3-storey shop offices in the 6,000 acre township. Priced from RM354,900
Seri Alam by Seri Alam Properties (United Malayan Land)
Bandar Seri Alam, Johor Bahru, Johor
2-sty Terrace/Link House, Freehold, 22' x 75'/ 95', Built Up:2,322 - 2,637 sq ft
From RM309,800 - RM584,800
Kempas Utama by (IOI Properties)
Taman Kempas Utama, Johor Bahru
2-sty Terrace/Link House , Freehold, 1,540 sq.ft., built up:2,314 sq.ft.
From RM332,010
D'Esplanade Residence by KSL Properties (KSL Bhd)
KSL City, Johor Bahru, Johor
Freehold, From RM356,580 - RM7,584,000 Total Units:608
Nusa Duta by IJM
Freehold boutique development, approx 127.7 acres is a mixed signature development project comprised of medium-high to high end properties with limited commercial component.
Medini Square by BINA Puri Holdings Bhd / Medini Land Sdn Bhd, a unit of Iskandar Investment Bhd (IIB)

A 2.8ha project in Medini North worth RM500 mil
Bandar Dato' Onn by Johor Land
Located near the Johor Bahru city centre, Bandar Dato' Onn is a 1,514 acre freehold township that is divided into 19 residential neighbourhoods and a 118-acre commercial hub.

Scheduled for completion this year at Bandar Dato' Onn are Sapphire two-storey terrace houses and Emerald 2 semi-detached houses. The former offers 2,679 sq ft built-up space set on 26ft x 70ft lot and is priced from RM393,000 onwards. Meanwhile, the semi-detached units are set on 40ft x 80ft lots with built-ups of 3,118 sq ft. Prices are from RM558,000 onwards.

Genting Indahpura by Genting Property
An integrated township in Kulaijaya, Johor, Genting Indahpura spans 3,200 hectares and promises low-density resort-style living.

On offer are Lakeview Residency, a gated and guarded neighbourhood, and Diamond II double storey terrace homes in a gated community. At Lakeview Residency, semi-Ds range from 3,484 sq ft to 3,934 sq ft. Prices start from RM534,800 to RM615,800.

Meanwhile, Diamond II homes are set on 22ft x 70ft lots and have built-ups of 2,540 sq ft. Prices start from RM288,800 onwards.

Horizon Hills by Gamuda Land
A sprawling 1,200 acres project located within Nusajaya, Horizon Hills is a multiple award winning resort residential development. Bungalows, semi-detacheds, cluster and link homes are specially built to complement the location's undulating terrain that boasts abundant greenery, a designer 18-hole golf course and a country club. The development is gated and guarded.
Nusa Indah by Country View
On offer at Nusa Indah is the 300-acre Parcel 2 consisting of 2-storey terrace houses. The indicative price are between RM250,000 and RM300,000.

Also to be launched is Nusa Sentral. Prices start from RM338,000 – RM729,850. Nusa Sentral is a new 300-acre freehold mixed residential and commercial development strategically sited at the heart of Bandar Nusajaya's iconic developments. The exclusive residential enclave presents a collection of contemporary residences. The launch of Phase 1 Summer Rose Series 20' x 70' and 22 x 70' Double Storey Link House will take place in the third quarter of 2010.

Seri Alam by UMLand
Seri Alam township is located in the Eastern Corridor of Iskandar Malaysia and developed by Seri Alam Sdn Bhd, a unit under Bursa Malaysia Main Board listed UM Land Bhd.

Launches this year at Seri Alam include Phase 4A1 (4aii) grand executive apartments in March, Phase 5C3 20ft x 60ft double storey terraces in July and Phase 5B1/2 three-storey shop offices in September.

UMLand also has other developments in Johor and they are Taman Seri Austin, Taman Pulai Jaya, Ikon Development serviced apartments, as well as a joint venture with UEMLand at Puteri Harbour.

Dynasty View by (United Malayan Land)
Currently, Dynasty View has three ongoing projects in Taman Seri Austin namely Amanda, Alisma and Azolla, all 2-storey terrace houses.
Seri Pulai Perdana 2 by Mah Sing Group
Situated in Skudai-Pontian, Seri Pulai Perdana 2 is a gated and guarded freehold development comprising 534 units of double storey terrace and cluster houses, and two- and three-storey shop offices. The project encompasses 72.26 acres and sports a garden resort theme.

This year, the developer will be launching two-storey cluster houses (32ft x 70ft) which will be priced from RM388,000 onwards, two-storey shop offices (from RM480,000) and three-storey shop offices (from RM680,000).

Sierra Perdana by Mah Sing Group
A mixed development located off the Pasir Gudang highway, Sierra Perdana has an adventure park theme. A residential offering at the township are type A1 one-and-a-half storey terrace units. Launched since 2009 and scheduled for completion end 2011, every unit is built on 20ft x 65ft lots and they are priced from RM165,800 onwards.

Taman Desa Tebrau by Plenitude
The project offers 1,088 service apartments, 194 office suites and 194 retail outlets for sale and lease. Launched since 2007, units at Tebrau City Residences are priced from RM178,000 onwards.

Another project in Taman Desa Tebrau is Tebrau Ria. A residential development that was also launched in 2007, Tebrau Ria offers 201 units of double storey terrace houses with built-ups between 1,731 sq ft and 2,322 sq ft. Prices of the units start from RM230,000 onwards.
Taman Desa Tebrau is an integrated business, residential and leisure hub that is spread across 965.73 acres.

Taman Laguna by Nusa Utama
Situated adjacent to Danga Bay integrated waterfront city, Taman Laguna is a 76.62 acre freehold residential project that was launched in 2006 and its development is split into several stages. Phase 1 offers 152 double storey link units with built-up areas from 2,763 sq ft to 3,220 sq ft set on 28ft x 90ft and 26ft x 80ft lots. Prices of the houses are from RM400,000 onwards.

Taman Laguna is a gated and guarded community and is accessible via a new coastal highway, Pasir Gudang highway and Jalan Skudai. Target completion of the township is 2013 of which there will be a total of 525 residential units.

Taman Pulai Flora by Binaik Equity
Flora Ville in Taman Pulai Flora is a freehold gated and guarded precinct. The project offers 3-storey semi-detached, two-storey cluster and two-storey terrace units that are respectively priced from RM670,000, RM455,000 and RM258,800 onwards. The development is situated just next to Pulai Springs Resort, a golf resort.

Taman Sutera Utama by Tanah Sutera
Situated in Taman Perling which is the western portion of Johor Bahru city, Taman Sutera Utama is a township that comprises bungalows, semi-detached, terraces, cluster homes, apartments and a commercial centre.

Current Rating:
(6)
(1)
Is this article helpful?