Featured Properties
Latest Property Market News & Articles
Perda disappointed with Penang Government's refusal to cooperate
(Daily Property News and Updates) - Jul 28, 2015
BUTTERWORTH, July 27 -- The Penang Regional Development Authority (Perda) has expressed disappointment with the DAP-led Penang government for refusing to cooperate in the effort to provide affordable and low-cost housing to the people in the state.Its chairman, Datuk Shabudin Yahaya, said Perda was ...
read more
Understanding the Jargon
(Others) - Jun 09, 2015
Acceptance Letter - A letter from you if you are willing to accept the loan if approved by the banks. That is after going through the terms and conditions carefully. Application Form - A form you use to apply for loan. Appraisal/Valuation Report - A report from a valuer/appraiser who a...
read more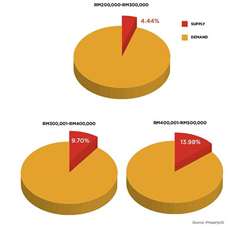 The Demand and Supply of Affordable Housing
(Market Reports) - May 27, 2015
Providing sufficient affordable housing is one of the more pressing issues which our country is facing. iProperty.com takes a closer look at its iPropertyiQ database results spanning from January to April 2015 to analyse the demand and supply situation in regards to affordable residential properties...
read more

Watch Latest Property Videos
Latest Investment Opportunities
Poll
Which informative guide book would you be interested in purchasing?
First-time Home Buyers Guide
Property Investments & More
Integrated Rail-connected Properties
Dream Homes
Township Living & More
A Guide to International Properties Investment


Vote